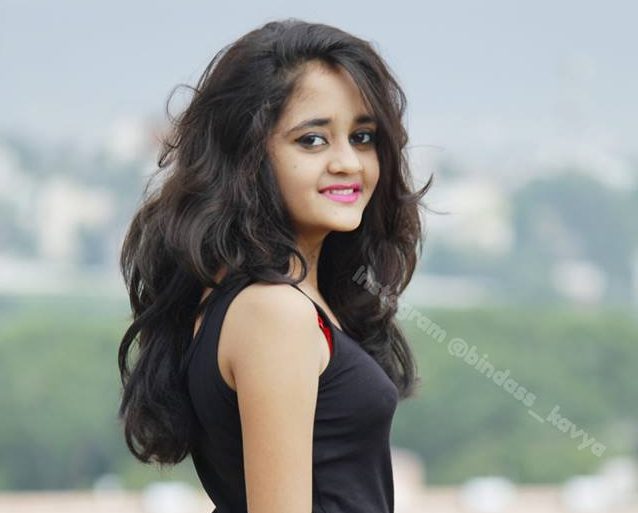 Kavya Shree Yadav popularly known as Bindass Kavya is an Indian Youtuber and a Tik Tok model. She lives in Aurangabad in Maharashtra. She started her journey with making TikTok videos and now she also has a YouTube channel to her name where she posts gaming content too. The 16 – year old TikTok was in an exclusive chat with one of our representatives of Digital Guruji.
Interview With bindass Kavya
Digital Guruji: Hello. Let's start with the environment these days. Could you tell our readers at DigitalGuruji how are you spending time in the lockdown?
Bindass Kavya: I spend time on TikTok. I make videos for YouTube and sometimes I also live stream.
Digital Guruji: How is your lockdown experience going?
Bindass Kavya: I am enjoying the lockdown very much as I am spending a lot of time with my family which is strengthening our bond in the family.
Digital Guruji: You have over 3.5 million followers on TikTok and 514K subscribers on YouTube, apart from that a very large following on Instagram, what would you say is your inspiration?
Bindass Kavya: I haven't had any such inspiration as of yet just a vision to become a blogger and want to become even bigger TikTok star. Gaming is just a hobby for me as of now. However, I get aspiration from Chhatrapati Shivaji Maharaj.
Digital Guruji: It isn't easy to manage such a large fanbase of YouTube, TikTok, Gaming, Instagram, and also studying without proper time management. How do you manage it? How do you ace the multi-tasking?
Bindass Kavya: It comes naturally to me, as I make TikTok videos upload them and when it comes to gaming, it is a hobby and so I find time for it.
---
Digital Guruji: Focusing on TikTok, when did yourealiseTikTok could be the platform to showcase your talent?
Bindass Kavya: First of all, when I made my first video it wasn't that good, all my friends were laughing at it and today every one is very appreciative of me. My previous ID got disabled for some reason, I was very upset back then. My mother had said to me that there is a thing called TikTok, it was called Musically back then, and also some of my friends were making the videos so it all started there. I had not thought I could do it but it just happened.
Digital Guruji: Approximately how many videos do you shoot in a week?
Bindass Kavya: In a day I shoot around 5 or 6 videos. I don't make many song videos as my fans don't like them much.
Digital Guruji: Managing all this is really difficult, how do you exactly manage stress?
Bindass Kavya: I try to not think about it much, I concentrate on TikTok. Whenever I feel tense, I rest for a bit and try to let it go. I follow the lead of all TV stars, of how even if they are stressed or tense, they focus on their work and I try to do the same.
---
Also Read:
---
Digital Guruji: It is very commendable that you are so mature for someone so young.
Bindass Kavya: Thank you.
Digital Guruji: Yesterday we got the news that your Facebook Account got terminated. Could you tell us what happened?
Bindass Kavya: Frankly, even I have no idea what happened, I just got a message from Facebook to show my identity, they asked me for my Aadhar Card which I sent to them but they deactivated my account for some unknown reason.
Digital Guruji: Previously your TikTok account had also got suspended and now Facebook, how does it make you feel?
Bindass Kavya: I had worked really hard for it and that is the reason I felt dejected because I had worked for a whole year on TikTok and then because of one single video, my ID got suspended.
Digital Guruji: We know you were very upset because of it, but the video is still on YouTube, and people are watching it so what are your views on that?
Bindass Kavya: I had uploaded the video to TikTok and then I just called in for the night. The next morning around 6 am when I checked my phone, my ID had got disabled somehow. I had got very upset because I had just lost a year's hard work within a night. My mother was supporting me in those difficult times, she consoled me saying that we'll talk with the concerned authorities of TikTok but didn't get any reply from them. It was a very hard time, I was ill for a fortnight or so but then I tried to overcome it. I made another TikTok ID and moved on.
Digital Guruji: We heard your parents are very supportive of your talent, how do they do that? What do they think of your talent?
Bindass Kavya: My parents know I am not that great academically. They know I was always interested in other activities like dancing or acting and they encouraged me for that. It is my mother's dream to see me as an established actress. Also, since I was a little girl it was my dream to become an actress. I used to see all these artists perform on the TV or in movies and I want to become like them.
Digital Guruji: Gradually, you are fulfilling all your goals, how do you feel about that?
Bindass Kavya: I feel very blessed and nice from the bottom of my heart as I am receiving so much support from everyone.
Digital Guruji: Apart from your fans and supporters, there are many people who troll you as well. How do you feel about that?
Bindass Kavya: When I see people trolling, yes, it hurts but I just ignore it. I just try to focus on my work.
Digital Guruji: What are your views on the new YouTube Vs TikTok Controversy? And Carryminati's video being taken down from YouTube even after groundbreaking records?
Bindass Kavya: So as far as I understand the first video was made by Elvish (Yadav) about TikTok Vs YouTube and that topic were trending on YouTube a lot and then Carryminati made a video that broke all the records of YouTube but then TikTok received a lot of hate and then comes how to Carry Bhai video got deleted, I don't it is in the capacity of any TikToker to have Carryminati's video deleted, this may have been done by TikTok, TikTok as a company may have sent emails to YouTube and Carryminati's video got deleted.
Digital Guruji: Your life revolves around TikTok and Gaming. However, do you have any other hobbies or skills you particularly like doing?
Bindass Kavya: I love drawing, I am not that good at it but I try. I like singing too, my mother likes my voice a lot and so I practice singing.
Digital Guruji: Your expectations from yourself are very high. You have already set your goals and already started your journey towards becoming an actress. Where do you see yourself in the next five years?
Bindass Kavya: First of all, I want to start working in the Marathi film industry or TV industry and then if I receive offers I'll move to other film industries. I am very adamant about my goal to become an actress. I have this resolve that I won't rest until I become an actress.
Digital Guruji: Tell us something that you want to share with your fans or viewers, something which people do not know about you.
Bindass Kavya: If you have the resolve to become something, just work hard towards it. I have worked hard for many years and after which I have achieved fame and even now I am working hard towards my goal of becoming an actress. So, if you have some skill, work towards it and bring it out.
Digital Guruji: When a talented person showcases their talent, there are certain people who troll them or are very negative towards them, so how do you advise to deal with such negativity?
Bindass Kavya: Concentrate on your work and if you want to be a blogger or something likewise just keep on working and success will come to you.
Digital Guruji: Thank you so much. It was a great pleasure to talk to you.
Bindass Kavya: Thank you.
We thank Krutika Dighe for helping us with the whole script and translation. Without her the text and video interview wouldn't have been possible.