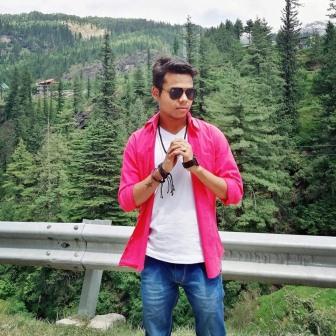 Dhaneshwar Dutt is a born poet, his way of writing lyrics & poems is wonderful. He belongs to New Delhi, pursuing his Master in Hindi from Atma Ram Sanatan Dharma College – University of Delhi.
Interview with Dhaneshwar Dutt
Dhaneshwar Dutt was born on April 11,1996 in New Delhi. Dhaneshwar Dutt still lives in Delhi Cantt Sadar Bazaar, New Delhi -110010. Since childhood he was fond of sports and acting. Dhaneshwar Dutt had decided in his childhood that he would do something different in his life. Since childhood, his focus was not on studies. For this reason, his tenth grade had very useless marks (Geeta Ashram Vidya Mandir School).
Due to this, he had to leave English Medium School and study in a government Hindi Medium School in Delhi Cantt. Initially they found everything very strange. It was not easy for him to study hindi directly through english medium. He could not understand some words of Hindi. But gradually he fell in love with the Hindi language so much that he used to read Hindi poetry and novels throughout the day.
One day in school, he overheard his Hindi teacher reciting poetry on stage and that day Dhaneshwar Dutt also thought of writing a poem. Then gradually his interest in Hindi poetry started growing and after finishing school, he studied in college and chose Hindi subject. In 2015 to 2018 he graduated in Hindi from Sri Venkateswara College (University of Delhi). Because of this, he became attached to Hindi poetry. One of his professors in the college was the Hindi poet Mukul Sharma. He loved the poetry of Dhaneshwar Dutt and used to say that you keep writing like this, you write very well. But Dhaneshwar Dutt was not satisfied with his poems, he wanted to write something different that made people read as everything has been written for them. After reading, people get immersed in poetry.
And in 2018 he wrote a poem (O my first love) this was a very sad love poetry. People liked this poem very much, thousands of people have heard and watch this poem on YouTube. And his poetry also became famous on music apps like SoundCloud.
Most students of college and school say that reading this poem tells us the feeling of incomplete love. The pain and discomfort after the breakup in this poem. It is clearly depicted in this poem. When a human is away from his lover and girlfriend after a breakup, he finds this life completely useless, he is not interested in any of his work, he starts destroying himself.
This pain is so painful, a person keeps on crying all day. He neither feels hungry nor thirsty. He keeps crying after remembering his old days of love. When they  once spent time with his girlfriend In such a situation, a person sometimes thinks of killing himself, then at every time strange questions arise in his mind.
In the end Someone goes out of this shock and someone ends his own age by destroying himself in this pain. This pain is clearly written in very simple words of Dhaneshwar Dutt's poem.
Read this poem too…O my first love (ओ मेरे पहले प्रेम)
This poetry is written in hindi ….
ओ मेरे पहले प्रेम

तू मुझे याद ना आया कर

तेरे बिन अधूरा हूँ मैं

तू ना मुझे सताया कर

याद तेरी जब आती है

अंदर से टूट जाता हूँ

कितने आँसू आते है

मगर किसी को ना बताता हूँ

अब रातो में आकर

तू ना मुझे जगाया कर

ओ मेरे पहले प्रेम

तू मुझे याद ना आया कर

देखा था जब मैंने तुझको

तू थोड़ा शरमाई थी

अपने दिल के अंदर तूने

कितनी बात छुपाई थी

जब मेरे वादे सुनकर

तेरी आँखें भर आई थी

मुझसे मिलने के लिए

तू मेरे घर तक आई थी

अब अपनी यादोें के सहारे

तू मुझको ना रुलाया कर

ओ मेरे पहले प्रेम

तू मुझे याद ना आया कर

याद है मुझको वो हर पल

जो तेरे साथ बिताया था

ढूंढ रहा हूँ तेरा घर

जो तूने मुझे दिखाया था

कोई मेरा प्यार क्या समझे

तू तो बस मेरा है

बिन तेरे इस ज़िंदगी में

हर तरफ अँधेरा है

तेरी खातिर मैंने कितना

दर्द यह झेला है

कुछ गलत ना कर बैठे

दिल बहुत अकेला है

अब मुझे दूर रहकर

तू इस दिल को ना जलाया कर

ओ मेरे पहले प्रेम

तू मुझे याद ना आया कर
#DGTalk Dhaneshwar Dutt Interview
Digital Guruji : What makes you different from other person?
Dhaneshwar Dutt : I never show much seriousness in doing anything. I feel that if we do any work without any pressure, then we can do that work better. If no work is ever completed then I blame myself instead of luck. Then I try to do that work more thoroughly.
According to me man should never give up. Because every day is not the same. If we are unsuccessful today, we will surely get success tomorrow.
Just keep doing your work with integrity and be patient.
I never thought people would like my poem so much. I just kept writing poetry and kept on acting, now this has become my business. I never thought of making money through acting and poetry but I have wanted More and more people know about me and all this is happening now.
Digital Guruji : What Are Your Future Plans?
Dhaneshwar Dutt : I don't think much about the future but I want to. I wish I had a chance to write a song in a Bollywood film. I want to make a lot of my videos on YouTube right now. I want people to improve their lives through my videos.
After a few years, I intend to work for the country. I can  join a political party in future. I want to work for the country.
Digital Guruji: Why do you want to join politics ?
Dhaneshwar Dutt : I love my country very much. For me, my country is more important than family. I love helping people. I feel very sad to see any poor. If I ever get a chance, I will sacrifice my life for my country. I want to help as many people as possible.
So that everyone can be happy in this country. People say how many people will you help? There are thousands of people living unhappy in this world? Then I say that I do not know thousands of people, but I will help as many people as I can.
Digital Guruji :
 What kind of situations you faced in early phase of your life,? 
Dhaneshwar Dutt : I am the eldest in my family. I have 2 younger brothers and I am the eldest.Therefore, the responsibilities of the house also on me.
In the early days when I started writing poetry. At that time, I did not have much knowledge about poetry, due to this, there were many difficulties in writing poetry. Previously I made a channel on YouTube. But the channel was deleted. At that time, I could not understand anything. What should I do and what not to do.
Then I recreated my YouTube channel. And then sent my poems to many websites and they  liked them very much. Gradually, my poems started becoming popular among people.
---
Also Read:
---
Digital Guruji :

We would like you to share your success mantra with our readers.
Dhaneshwar Dutt : I would only say that now a days everyone wants to become famous but no one wants to really work hard. So our first step should be honesty towards our work. Keep working hard not for money but for your passion and you will surely achieve your goal.
Today people want to see someone like him and they are absolutely wrong. Take inspiration from others, do not try to be like him because in becoming like others you may lose your talent.
Digital Guruji:
 what's your daily routine? 
Dhaneshwar Dutt : I do not have a particular routine.I get up at 6:30 am and then exercise for a full hour. After my breakfast, I listen to like some Hindi love songs. Then I write some of my poems and I am also writing some novels. After that I use my social accounts a little bit.
I make my own videos on Tik Tok and do some practice of acting and write a script of my new upcoming youtube videos. In evening, I play some sports.8 to 9:30 pm I watched news. After having dinner at 9:30 pm, then from 10 pm to 10:30 pm, I use my phone and then go to sleep.
Digital Guruji:
 Dhaneshwar Dutt what is your weakness? 
Dhaneshwar Dutt : My weakness is love…You can make me do anything by speaking with love. I like to be quiet and not fond of rubbish.
People have taken full advantage of my innocence. Only because of love.But in the end people break my heart or leave me. I have lost a lot in life because of this love. If a human ever settles in my heart. Then I am willing to lay down my life for that person.
Digital Guruji: Why do you always write about love?
Dhaneshwar Dutt : Love is the most beautiful thing in this world. Love has no price. But nowadays people have made love a joke. People compare love with money and beauty.
Nobody values ​​true love. I want to tell such people the real meaning of love. I write the present-day situation in my poems. How people are doing  business in the name of love.
Digital Guruji: How is your experience with Digital Guruji?
Dhaneshwar Dutt : I felt very happy talking with you. I shared some important things about my life with you. All these things were probably necessary for my fans. Because they don't know. How I became an artist and a writer
I thank the entire team of Digital GuruJi. You all are doing a great job. You all work very hard. Keep doing your work with honesty like this.
Connect with Dhaneshwar Dutt: 
Facebook : www.facebook.com/OfficialDhaneshwarDutt
Instagram : www.instagram.com/dhaneshwardutt/
Also Visit www.hindinetmaster.com to learn about day-to-day hacks in Hindi.