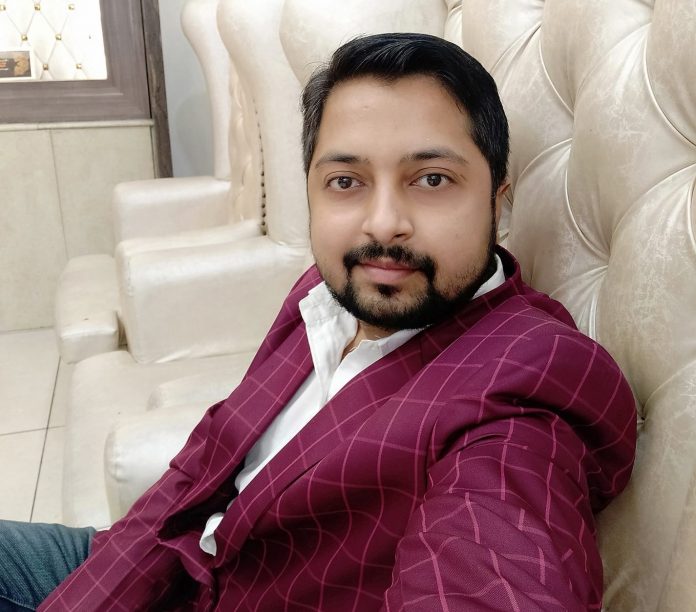 Deepak Kumar is a 29-years-old Indian Entrepreneur, Web Developer, SEO Expert, Blogger, Teacher & Content Writer hailing from Delhi. He has completed his basic education from DAV Public School, Pitampura, Delhi, and graduated from Delhi University. Deepak Kumar is the founder of xPress Web Solutions, an IT firm that offers web designing, web development, SEO, content writing, graphic designing, and other digital services. Deepak is also a Digital Marketing Head at Propertyyy.com. He is too passionate about teaching, so actively he is engaged in the teaching field and is a Director at Achievers Hub Institute, Rohini, Delhi. Interview with Entrepreneur Deepak Kumar, Founder of xPress Web Solutions
Deepak Kumar Personal Information
Full Birth Name
Deepak Kumar
Nick name
Golu
Date of Birth (DOB), Birthday
Nov 17, 1991
Hometown
Delhi
Current Residence
Rohini, Delhi
Nationality
Indian
Famous For
1. Founder of xPress Web Solutions,
2. Marketing Head at Propertyyy.com
3. Director at Achievers Hub Institute
Marital Status
Unmarried
Star Sign (Zodiac Sign)
Scorpion
Highest Qualification
Graduation
School/ College
Delhi University
Hobbies
Dancing, Cooking, writing
Dream Holiday Destination
Paris
Favorite Color
Red
Favorite Food
Kaju Katli
Best Friends
Priyanka, Nikhila
Linkedin
Link
Entrepreneur Deepak Kumar Interview
Digital Guruji : Tell us a bit about yourself. Where are you from and where did you grow up?
Deepak Kumar : Hey readers, I am Deepak Kumar. First of all, I would like to thank the Digital Guruji platform for covering my interview. Well, I would call myself an entrepreneur as I am passionate about a lot of things. I am the founder of xPress Web Solutions, which is basically an IT firm that offers web designing, web development, SEO, content writing, graphic designing, and other digital services. I am also a Digital Marketing Head at Propertyyy.com.
Teaching has been one of my passion so I have been teaching since 2011. Currently, I am a Director at Achievers Hub Institute, Rohini, Delhi. I teach around 11-12 subjects currently.
Digital Guruji : How did this all begin? What started your Entrepreneurial journey?
Deepak Kumar : See everyone needs motivation in life and we get inspired by someone or the other. By the year 2012, I developed an interest in entrepreneurship. I became a part of an organization that completely changed my mindset. I started reading about successful people like Bill Gates, Elon Musk, Jeff Bezos.
I always dreamt of doing something of my own. It started with blogging. I started blogging in 2013 but at that time my parents were totally clueless about to what I was doing. I wrote content for my blog for around 2 months and started getting a good responses but my parents wanted me to go for a govt. job as my father himself was in a very reputed post.
On their insistence, I gave a lot of govt. jobs like IBPS, DRDO Admin exam, CSIR, NIMR, etc. I cleared 95% of them in the first attempt. My parents were happy but I did not like the idea of working under someone be it a govt. job or private job.
I always wanted to do something of my own where I feel like being my own boss!
In 2016, I saw my college friend Alka's brother's interview on a website. It was about their blogging journey and how they were making around 6 -7 lacs per month.
I was shocked after hearing their monthly revenue from Blogging. I contacted her and confirmed it. She was not willing to reveal it initially. I somehow convinced her and she told me how they were making a decent amount of income from blogging.
I got so much inspired and started my tech blog, TechAdvises in Dec 2016. And in 2017 we opened xPress Web Solutions.
---
Also Read:
---
Digital Guruji : How was xPress Web Solutions founded? It would be helpful for people if you share your xPress Web Solutions journey.
Deepak Kumar : It all started with me and my 2 friends sitting in the park, we discussed started a web solutions co. One of the friends was an ethical hacker and web developer and the other one was a graphic designer. We assigned roles to each other and got our first website development project worth 20K INR( not bad for the first one haha?)
I kept on increasing my knowledge in blogging, web development, SEO, content writing, and other domains. I used to read blogs, learn from other bloggers, watch tutorials on YouTube, learnt from different books etc.
Slowly and steadily, we kept increasing the number of services and client flow started. Sometimes it was hard to find clients in the initial days but after we developed our portfolio clients started coming on their own. Our clients were so happy with our services and trusted us blindly and they do even today!
Now, we have a lot of clients in India, the US, and the UK. I manage xPress Web Solutions single-handedly ( if we talk about the management). We have interns and few permanent employees who help us to serve our clients better.
A lot of our interns have been placed in big IT firms like In video etc.
Digital Guruji : May I know, How did the idea for your business come about?
Deepak Kumar : The idea of xPress Web Solutions came when we realized that we can utilize our IT knowledge in building something great, a firm that will always believe in customer satisfaction.
Founder of xPress Web Solutions – Deepak Kumar
Digital Guruji : What does xPress Web Solutions do?
Deepak Kumar : Xpress Web Solutions offers various digital services like website designing and development, content writing, SEO, social media marketing, graphic designing, hosting services, video creation, and marketing, etc.
Digital Guruji : What were the challenges that you faced initially and how did you overcome them?
Deepak Kumar : Initially, the challenges were to build a strong portfolio, find clients and build trust with them. Most of the clients ask for work experience and testimonies and in your starting days, it is not easy to convince your clients.
We kept on working harder and harder, kept on learning, and always had an optimistic approach. We used different platforms to gain more clients. We also requested our clients to leave their feedback about our work. This helped us to grow faster.
Digital Guruji : Tell us about the people who impacted your journey.
Deepak Kumar : I was impacted a lot by Elon Musk. He is quite dedicated and passionate about his work. He is truly an ideal.
Deepak Kumar Age – 29 Years
Digital Guruji : How do you define success? Are you satisfied with your achievements? What is your most significant success to date?
Deepak Kumar : Success is something that gives you inner peace, obviously a decent income, and the fame and appreciation it brings.
I love my work, I never feel like working or a burden because I am doing things I am passionate about. Things have changed a lot in the past 3years. I have a good professional network and get appreciation from a lot of people. A lot of people love to learn from me. CEOs, CTOs, Founders, and Directors of various tech and non-tech brands love to connect with me. This gives me joy from within.
My most significant success was our e-commerce store, we were selling around 200-250 products per day and made around 15000 to 30000 INR per day as profit. We hope to resume it and hoping for more sales when the lockdown ends.
I am happy with what I have achieved but I do not want to settle here. My goals are way too higher.
---
Also Read:
---
Digital Guruji : Your previous jobs/ventures? What were you doing before choosing this field?
Deepak Kumar : I have been teaching since 2011. I love to teach and have been doing the same along with my digital assets. Prior to Digital marketing and eCommerce, I was into blogging. I still write blogs and own 7 blogs in the tech, education, entertainment, and news niche.
Digital Guruji : What are your biggest achievements and falls in your journey?
Deepak Kumar : Well, there are many I guess but I believe the biggest one will be reaching to point where we were making around 200-250 orders per day on our e-commerce business with a daily profit of 15000 to 30000 INR. We hope to resume it soon after the lockdown ends in all states.
Digital Guruji : Tell us something about your education & family background.
Deepak Kumar : I have passed out from DAV Public School, Pitampura, Delhi ( Science side). Then I pursued Computer Science from Delhi University. After that, I did few short online courses and a diploma in digital marketing and programming languages.
Our family is based in Delhi. I have a small family. We are 5 members in total. My father is an Assistant Director in Economics and Statistics Department, mother housewife, youngest brother has done B. Tech from NSIT and the middle one completed B. Lib after his masters.
Digital Guruji : How has been the support from friends and family?
Deepak Kumar : Well, the support was not good in the initial days. They were clueless about my digital assets and all I do. And yes, they used to say how will you explain your digital business to the girl's parent ( for marriage), lol. But yes, they always supported my teaching career. They wanted to see me as an officer in a good Govt. Department.
Now they are happy as they know that I earn a decent amount of money.
Some friends were really supportive in the initial days. In fact, a lot of my college and school friends reached me on FB ( after a long time) saying that they really appreciate the things I have done.
Digital Guruji : Any Educational / Special Achievements you want to share with us?
Deepak Kumar : Yes, joining as a digital marketing manager at Propertyyy.com can be considered as one of the achievements. But yes, I wish to grow more and more. I believe one should never stop learning.
If I talk about education, yes I was good in academics in school and after graduation, I cleared IBPS, CSIR Admin exam ( 10th rank in this one), DRDO, NIMR, and other exams.
Digital Guruji : If you had a magic stick, which are the two things you would change in the world?
Deepak Kumar : Haha, If I had a magic stick I would love to change the mindset of a common man in India. I don't have any issue with a 9 to 5 job culture but I believe there is nothing wrong with following your passion. Parents should support their children, you never know what wonders their passion can do.
Digital Guruji : What is the part of your life experience you would alter if you had the chance to?
Deepak Kumar : Overthinking. I would love to change the phase when I used to do a lot of overthinking.
Digital Guruji : What is the best way to learn digital marketing?
Deepak Kumar : To learn digital marketing you can check out our course on Achievers Hub institute's official website or learn from YouTube channels, ebooks, blogs, and yes by practically doing things. Digital marketing is all about learning and implementing things practically.
Digital Guruji : If you had the chance to start your career over again, what would you do differently?
Deepak Kumar : Focusing on a single blog instead of concentrating on so many blogs. Sometimes it can become a mess.
Digital Guruji : What inspires you? Whose work has influenced you most?
Deepak Kumar : Elon Musk's work schedule, and a quote by bill gates: If you are born poor it's not your mistake, but if you die poor it's your mistake.
Digital Guruji : Tell us how a day in your life looks like? Your schedule for a day right from the time you get up till you hit the bed at night.
Deepak Kumar : Now in lockdown, my schedule is not that hectic. But on normal days, I have a batch for digital marketing or competition classes in the morning. After that, I start working on client's projects or on our own websites. Our is a remote agency so all the interns and employees are assigned tasks in the morning itself.
In the evening, I start teaching in my institute and take 3-4 classes. After that I take some rest, a short nap, have my dinner and sleep at around 11 or 12 pm.
But yes, it's lockdown for a long time so I have binge-watched a lot of web series.
Digital Guruji : What are the qualities you look for in a candidate when you hire for xPress Web Solutions?
Deepak Kumar : First and foremost, the candidate should be passionate and should have a learning attitude. After that, we check how well he/she is in doing things practically.
---
Also Read:
---
Digital Guruji : What is the biggest misconception that you think people have about you?
Deepak Kumar : Some people might think that I am arrogant or so because in the past few years I limited my circle, was not able to respond to everyone but those who know me well knows that I am a fun-loving guy. In fact, I can be quite talkative with those whom I value in my life.
Digital Guruji : What is your greatest fear, and how do you manage fear?
Deepak Kumar : Can't recall one right now. I overcome fear by realizing the fact that these are just thoughts and I should let them go.
Digital Guruji : Tell us about your learning in this entrepreneurship journey.
Deepak Kumar : Never Stop Learning. Consistency is very important. Think thrice before adding someone as a partner in your business.
Stop complaining and start taking action if you want to achieve goals in your life. Be optimistic and yes, keep a check on your thoughts as thoughts can make or ruin your life!
Digital Guruji : How do you stay updated on the latest trends in the Market?
Deepak Kumar : I am a part of hundreds of blogging and Digital Marketing groups. I surf through Linkedin Feed where I get to know more about the latest digital marketing trends.
Digital Guruji : If you were to write a book about yourself, how would you name it?
Deepak Kumar : It's OK To Be Different From the Crowd
Digital Guruji : What next? What are your future goals?
Deepak Kumar : I have got various offers as a global digital marketing head for renowned brands. I would love to grow our agency and institute more.
Digital Guruji : What advice would you like to give our young readers?
Deepak Kumar : Be consistent in what you do. Follow your passion. Avoid smoking. Never lose your good friends. Don't trust everyone blindly.
Digital Guruji : Any more Interesting Story Do You Want to Share with Us.
Deepak Kumar : Maybe some other day on a coffee.
Here Ends Interview with Entrepreneur Deepak Kumar, Founder of xPress Web Solutions.