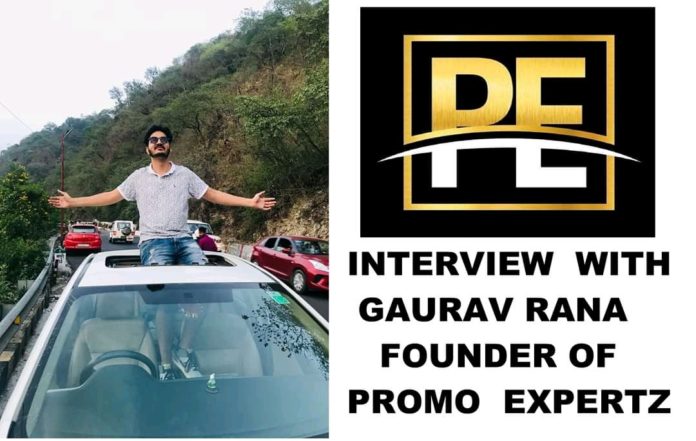 Gaurav Rana is the Founder of Promo Expertz, who is also a well known Digital Marketer and has done several promotions for Bollywood and Punjabi Singers.
Interview with Gaurav Rana
Digital Guruji: Please introduce yourself to our readers.
Gaurav Rana: My Name is Gaurav Rana. I studied from Vardhaman Academy and then I graduated from DN Degree College Meerut. I am now running my Company called "Promo Expertz".
We do digital promotion of Punjabi songs and Bollywood movies and also excel in political campaign and artist management. We are based in Meerut, Delhi, and Mumbai. Promotion of "Manikarnika" movie, starring Kangana Ranaut and "The Journey Of Karma", starring Shakti Kapoor and Poonam Pandey are our highlights.
---
Also Read:
Digital Guruji: What Are Your Future Plans?
Gaurav Rana: My plan is to grow my business in a maximum number of states in India as well as abroad in countries like Canada and Australia where Punjabi audience recites.
Digital Guruji: How your study's going on. How much time do you give at your work? How do you divide your time between studies and work?
Gaurav Rana: At the time of the early study, I started some pages on Facebook, that was when I was around 14 years old and then I started generating traffic to many networking sites including WittyFeed. At that time, I was earning well 2000-3000 on a daily basis.
Before that, even if I had Rs. 500 in my pocket, I used to feel that I'll enjoy for a week, bunk classes, and watch movies. This was when I was in the 8th standard.
Then, those pages were unpublished and I started digital promotion work which is going pretty good.
---
Also Read:
Digital Guruji:

We would like you to share your success mantra with our readers.
Gaurav Rana: My mantra for being successful is to keep learning each and every day. Learn from your failures and take small steps forward.
I have 2 E-newspaper portal too.
1) THE BHARAT TIMES
2) PUNJAB TIMES
All I learned is from the internet and sic group. I never take any extra classes or any particular course for that.
Digital Guruji:
Any remarkable incident you'll remember all your life?
Gaurav Rana: When I started Digital Marketing, I was in 11th Standard and due to digital marketing work, it was difficult to focus on studies. So, my parents were a little worried about my studies and they always said to spend less time on the internet.
Then I tried to make them understand how this will help me in the long run, and they started supporting me.
Digital Guruji: What are your life goals?
Gaurav Rana: My life goals include having my own Mercedes and expanding my company all over the world.
Here Ends Interview with Gaurav Rana, Founder of Promo Experts.