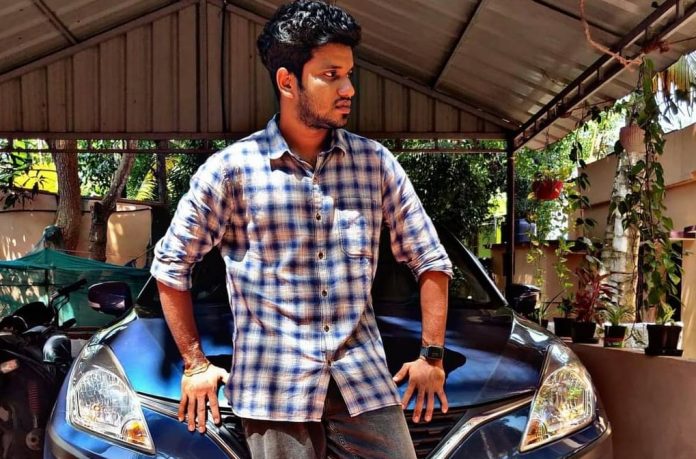 Asvin M is a 28-years-old Juvenile Cricket Enthusiast. He belongs to Marthandam, Kanyakumari, and is the founder of Swagcricket. Interview with Juvenile Cricket Enthusiast Asvin M, Founder of Swagcricket.
Social media is much more than we think, it has much more meaning than just scrolling through memes and reels. Platforms like Facebook, Instagram, Twitter, YouTube and many others provide the users with an option to create content. Ultimately, it is the users like you who become content creators and give you regular content on these platforms.
Asvin M is one of such users who decided to convert his craze for MS Dhoni into a fan page on Facebook. Little did Asvin know that this fan page would make him the Owner and Managing Director of Swagcricket.com today.
Swagcricket.com is a website which provides cricket fans with a different view of the game. Trending news, profiles, and features are the highlight of this website. Thanks to the growth of this website, Asvin M has now launched Theswagsports.com with an aim of covering content of various sports across the world.
Asvin M's fan page about Dhoni became much popular. So, he created general cricket pages, again offering unique content. With this reach, he gathered a large audience and then came across blogging.
He did not have enough idea of monetization and revenue generation when he started. However, he kept working hard in this direction, increased his knowledge day by day, and has transformed swagcricket.com into a bigger website now.
Asvin M initially worked a regular 9 to 5 job to earn a salary for his family. He is a graduate in Electricals and Electronics. However, there came a phase in his life when he had to choose between his career and passion.
Fortunately, Asvin took the route of passion, and on top of that, his family supported him a lot. His brother, who is a graphic designer, has backed him at crucial moments. Even his friends have been quite supportive in his journey.
Swagcricket.com is quite popular in India now, with lots of fans visiting the website for their dose of cricket content. Notably, Asvin M made it big in this field with a small team only, who was always dedicated to working for the website.
Asvin M Swagcricket Personal Information
Full Birth Name
Asvin M
Nick name
Ash
Age
28
Hometown
Marthandam, Kanyakumari
Current Residence
Marthandam, Kanyakumari
Nationality
Indian
Famous For
1. Founder of Swag Cricket
2. Cricket Enthusiast.
3. Digital Marketer.
4. Blogger.
Marital Status
Single
Highest Qualification
B.E
School/ College
Anna University
Hobbies
Cricket, Travelling
Site Url
Link
Founder of SwagCricket – Asvin M
Digital Guruji : Tell us a bit about yourself. Where are you from and where did you grow up?
Asvin M SwagCricket : Hello, my name is Asvin M, I am the founder of Swagcricket. I was born and brought up in Kanyakumari, Tamil Nadu.
Digital Guruji : What started your Entrepreneurial journey?
Asvin M SwagCricket : I am a big fan of former Indian cricket team captain MS Dhoni. He inspired me a lot, and being an ardent fan of Dhoni, I opened a Facebook fan page, where I shared content about MS Dhoni regularly. This fan page grew bigger day by day and it was the beginning of my entrepreneurial journey.
Continuing the same way, I decided to create cricket pages non-centric to MS Dhoni. My main intention was to create engaging content that can entertain the fans on various social media platforms like Facebook and Instagram.
Digital Guruji : How was SwagCricket founded?
Asvin M SwagCricket : My social media pages grew bigger day by day. However, I had no idea how could I transform my passion into something bigger. My passion for cricket helped me achieve much success on social media, but it was not generating any revenue for me at one time.
Subsequently, I learned about blogging and how it can help me generate revenue through social media accounts. Even though I did not have much knowledge about blogging then, my passion drove me to create a website, and hence, Swagcricket was founded. Initially, I myself wrote the articles on my website before I started to hire freelancers for the same.
---
Also Read:
---
Digital Guruji : May I know, How did the idea for your business come about?
Asvin M SwagCricket : Slowly, we started to get organic views from all over the world. I worked hard on the SEO aspect and tried my best to drive organic traffic. It did not happen in one day, but slowly and gradually, the number of visitors started from search engines like Google, Bing, etc. to increase.
After swagcricket.com started to receive visitors regularly from search engines and social media, I decided to launch another website named theswagsports.com. The idea behind it was to cover all sports, including cricket. We also have the Tamil version of The Swag Sports website.
Digital Guruji : What does Swag Cricket do?
Asvin M SwagCricket : Swagcricket.com aims to provide cricket content to the fans in a unique manner. Our sole aim is to produce content that is interesting and unique at the same time. Our main focus is the Top 5, Top 10 features, wherein we combine the top entries from the entire cricket history, regarding a particular statistic or a particular event to educate the fan about the history. Also, we cover some trending social media news for the younger cricket fans.
Digital Guruji : What were the challenges that you faced initially and how did you overcome it?
Asvin M SwagCricket : Yes, I have faced many challenges initially. After graduation, my family situation forced me to take up a regular 9 to 5 job, which did not have a satisfying return as well. Still, I worked because of my family. However, there came a moment where I had two options. One was to continue working 9 to 5, and the second was to follow the passion. Thankfully, I chose the second option and even my family has supported my decision. 
Digital Guruji : Tell us something about your education & family background.
Asvin M SwagCricket : I have completed my graduation in Electrical and Electronics. I have an elder brother, who is currently working as a graphics designer. My mother is a housewife, and my father is in the field of construction works.
Digital Guruji : How has been the support from friends and family?
Asvin M SwagCricket : Family and friends have always been supportive, especially my brother. My elder brother has given me a lot of support in my journey so far. Even my family has been quite supportive and satisfied with my journey.
---
Also Read:
---
Digital Guruji : If you had a magic stick, which are the two things you would change in the world?
Asvin M SwagCricket : Well, I would like to change one thing only, that too in the digital world. Often we have seen that whenever a YouTuber or a social media influencer is in public, their fans easily recognize him. However, the same is not the case for bloggers like us. Even though our websites get lots of visitors, the people who read the content might not always recognize the writer in public. Hence, if I had a magic stick, I would try to make the bloggers more popular and recognizable.
Digital Guruji : What is the best way to learn digital marketing?
Asvin M SwagCricket : There are many ways to learn digital marketing, but in my honest opinion, the only way to master digital marketing is to start doing it. You need to understand by doing it practically. Obviously, you will commit some errors, but that is the only way you will get to know more about the main concept.
Digital Guruji : If you had the chance to start your career over again, what would you do differently?
Asvin M SwagCricket : Ohh, if I restarted my journey, I would definitely take more risks than what I have taken so far in my journey right now.
Digital Guruji : What inspires you? Whose work has influenced you most?
Asvin M SwagCricket : MS Dhoni inspires me and his work on the field and off the field influenced me the most. For a quote, I'll say one of MS Dhoni's statements only: "Face the failure until the failure fails to face you."
Digital Guruji : What are the qualities you look for in a candidate when you hire for SwagCricket?
Asvin M SwagCricket : We do not have a huge group, but I have some cricket lovers who have been with me on this journey. Before hiring them, I tried to see if they had the same passion for cricket and blogging as them. Also, their knowledge about the sport was the main aspect, because only a regular cricket viewer can describe better than a casual viewer. Obviously, in writing articles, you also look for someone with a good command of writing and language. So, these are some qualities I looked for while hiring for swagcricket.com.
---
Also Read:
---
Digital Guruji : What is your greatest fear, and how do you manage fear?
Asvin M SwagCricket : Taking risks has been my greatest fear, to be honest. Everyone loves to play on the safe side, but the thought of achieving success by taking risks is also there in everyone's mind. Very few take risks because of the fear of failure. However, because of my experience, I have been able to manage this fear.
Digital Guruji : What next? What are your future goals?
Asvin M SwagCricket : My future goal is to transform my website into one of the biggest sporting websites in India. The fans have loved our content, and we will try to improve and grow in the same direction, with the goal being to generate huge traffic consistently, which will ultimately make us one of the top sports websites in the country.
Here Ends Interview with Juvenile Cricket Enthusiast Asvin M, Founder of Swagcricket.