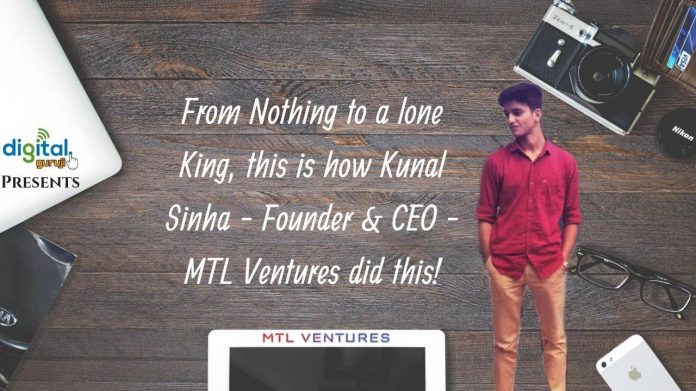 Interview With Kunal Sinha , MTL Ventures
Digital Guruji: Hello Kunal, Please tell something about yourself to our readers.
Kunal Sinha: This is Kunal Sinha. A Dual Award-Winning Blogger, Content Creator, Digital Marketer & an Entrepreneur in Professional life and a 12th Standard kid who took science stream by mistake. Lemme tell you, what all I have got here. So, I am the Founder of MTL Ventures (A Digital Marketing Company), having 35 other sites in various niches, having a secret offline venture and holding some shares in World Share Market too.
Digital Guruji: What Are Your Future Plans?
Kunal Sinha: Umm, Future Plans! Though I don't think much about future plannings, I have planned to study BBA (Graduation) from Pune and MBA (Post Graduation) after a while, from Abroad maybe and mean while will grow MTL Ventures up to a praiseful position. I would also be applying in the marketing team of any company to learn how a company works in-house and how the projects are carried away on the desk; and ya, just thought to be settled in Vegas later (if possible)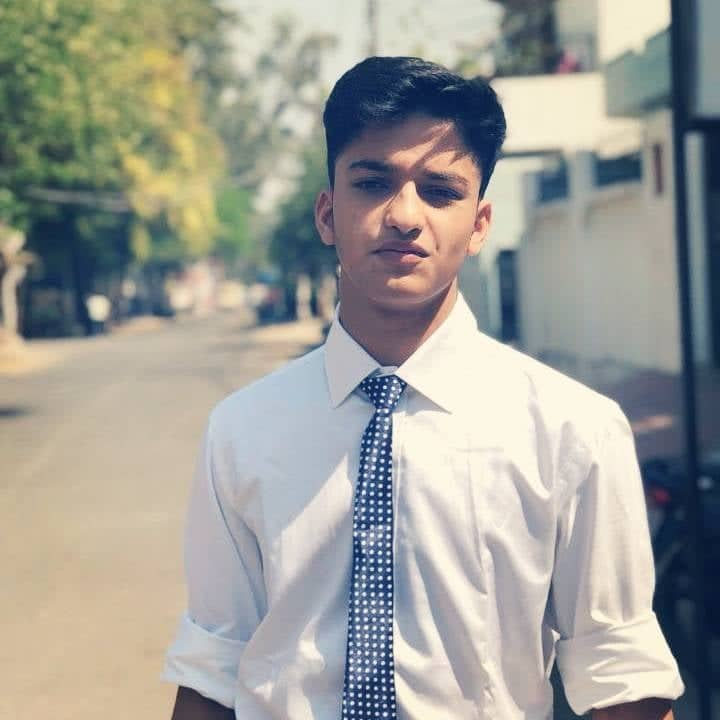 Digital Guruji: What are your current Projects that are on board?
Kunal Sinha: Having various Projects running currently with different brands and companies. Cannot specifically write about any here.
Digital Guruji: You become quite successful at a small age, what your parents feel?
Kunal Sinha: I never thought myself to be Successful yet. Have loads of work to do and finish off! Even, my parents don't think so. They are quite worried about me since I don't show much interest in studies. Dad understands what I do and he is supportive. Mom is also supportive but she is always worried about my studies and education and I think it's obvious for any parent.
Also Read:
Digital Guruji: How your study's going on. How much time do you give at your work? How do you divide your time between studies and work?
Kunal Sinha: I am currently studying in 12th Standard (Science Stream, again by mistake) in a co-ed ISC board school. Not at all studious, and rather not having a bit of interest in this stupid integration and differentiation. My studies have been average since 9th standard because by the end of 8th class, I entered into Blogging.
Digital Guruji: Please tell some success mantras to our readers?
Kunal Sinha: Umm, Since I have faced a bit of success till now and on the same time losses, hatred and everything negative rolling out there in the virtual life (say social media), have some points that are must to be taken into consideration if you are in a business.
Don't work hard, rather work smart!

If you receive hatred in form of hate messages, hate posts and whatever, nothing to worry about here. This is sign of Success.

Never wait for someone to pick you up when you fall. Nobody actually bothers. Get up yourself and start hustling again.

Always believe in yourself. People won't believe in things, they can't do even after 7 lives.
Digital Guruji: Do you have any girlfriend, what does she do?
Kunal Sinha: Ahh! Don't have any girlfriend currently. I don't believe in this relationship shit out there and want to focus on 12th and my of course my work. In parallel universe, could not find any girl of my type (Hahaha). Koi bhi mil jaye abhi toh (Hahaha).
Also Read:
Digital Guruji: Tell us something about your family, their occupation, their behavior when you stated earning digitally?
Kunal Sinha: My dad has got his own venture related to Machines. My mom is a home-maker. My brother is currently studying B Tech from Marine Engineering in Pune. Since my initial point, my brother supported me a lot. He convinced our parents for letting me do, whatever I wished to and see, I am in front of you. My parents don't show their happiness in front of me but I wish they are happy internally.
Digital Guruji: Any incidence which you can't forget all life?
Kunal Sinha: Yeah! I have got one small incident to share with you all. There was one project that required heavy funds. I reached around 60-75 investors for that matter. They found no potential in me, my company and my project. Not even a single person wanted to listen to my issue. Then and there, I realized that nobody gives a shit to your problems and issues. Always become your own helper, nobody will starve for you except your parents. I went to my dad and asked for some funds. Without a single second, he transferred some funds to my account. I added what all I had with me in the project. After a month, I got to know that the project was a huge success. The project, the idea and the person with 0 potential turned out to be the mega success at that time. Seriously, I gave all the funds collected from the project to my dad.
Digital Guruji: What are your life goals, your destination, your Lifestyle?
Kunal Sinha: I truly have made a list of Goals that want to accomplish in this life itself and this goes here,
I always wanted to have a world tour.

Always wanted to read The Holy Bhagwad Geeta once in lifetime.

Want to give everything, my parents deserve and if marriage comes in between this, will definitely not marry for sure.

Will have my house, full of dogs and pups.

Will make MTL Ventures, a multi-national company.

Not crazy about Bikes and Cars, so wanna have an average costed car and a bike.

The most important, want to be satisfied always!
You asked me about my dream destination. According to me that would be Vegas (if I decided to live abroad ever) and if I stayed in India, then Pune for damn surety.
Digital Guruji: How is your experience with Digital Guruji?
Kunal Sinha: Yes, for sure. Will recommend my mates and relatives to have a scheduled reading on DigitalGuruji. The inspiring articles you guys bring out here is worth reading and praising. A big thumbs up.
Thank you, DigitalGuruji for inviting me here.