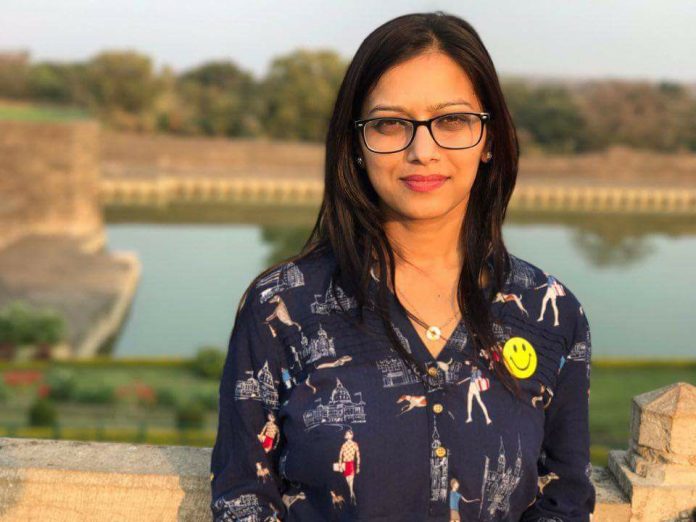 Interview with Leena Duwadi
Leena Duwadi is a media professional from Bharatpur, Nepal with a true passion for digital journalism and over eight years of experience in TV and Radio. As the Editor-in-Chief of WittyFeed, Leena Duwadi gathered talented teams in India and USA that manage over 25 Facebook properties and a flow of 1200+ articles a month.
Digital Guruji: Please introduce yourself to our audience.
Leena Duwadi: I am a digital media person. I call myself a dreamer, believer, achiever, influencer, admirer, follower and so on.
Digital Guruji: How did you started your carrer?
Leena Duwadi: My journey to media industry started in 2004. I worked in radio and TV for many years. Later I moved to digital content industry. In 2014 mid, I happened to join WittyFeed.
Digital Guruji: what's your education qualification?
Leena Duwadi: MA in Demography / MSc in Value Education.
Digital Guruji: what are your Future Plans?
Leena Duwadi: I am enjoying my job and I want to excel it to its best.
Digital Guruji: what kind of problem did you faced while Journey of WittyFeed?
Leena Duwadi: Digital was very much new for me. Also, I had moved from hardcore news to light-hearted content. I had to adapt the flavor of millennial content.
Digital Guruji: Who is your ideal and why?
Leena Duwadi: I follow many empowered wo/men, I read them, I follow their social handles, I watch them on various streams. They all are my ideals. Their speech makes me realize where I am and how much I have to do in life.
Digital Guruji: What did you do to get rid of it?
Leena Duwadi: I read a lot. I wrote a lot. I tried to do everything that required.
Digital Guruji: What was your role in WittyFeed, being Editor-In-Chief ?
Leena Duwadi: My responsibilities at WittyFeed were to:
Manage, control and lead the discovery, development, and distribution of content.

To Ensure that content is editorially sound.
To Secure the virality of every content piece that floats on WittyFeed's websites.
Also to Reject writing that appears to be plagiarized or appears to be of little interest to the audience.
Making Planning and strategy as per the vision, ethics, and policies of the website.
Evaluating writers/editors' performance.
To Motivate team members and make sure they work with joy.
Hiring writers and editors.
To Train writers and editors and help them grow.
Working towards the commercial success of the website.
Digital Guruji: Why did you want to be a journalist?
Leena Duwadi: I used to love sitting in front of television and watching news bulletins when i was a kid. Even though I had no clue what the news meant to be. The media profession always fascinated me and finally I happened to enter the media world when I completed my 12th.
Digital Guruji: How do you manage your time?
Leena Duwadi: It's all about setting up the priorities. I prioritize works that matter to me. I religiously follow my to-do list which helps me a lot. I put even the smallest task on my to do list.
Digital Guruji: Any success mantras for Digital Guruji readers?
Leena Duwadi: Success is a vague term. If you are leading a contented life, you are successful. Also, there's no mantra for success.
Keep accomplishing good works, keep yourself high-spirited and influence people around you in a positive manner, you are successful. Earn people more than money and you are the happiest person in the world.
Digital Guruji: What makes you feel happy?
Leena Duwadi: I feel happy when I mark 'done' to my every small/big task.
Digital Guruji: what are your weakness?
Leena Duwadi: I am socially very awkward. This is my weakness.
Digital Guruji: what was the reaction of your family members when you told that you are going to start online?
Leena Duwadi: For the whole two years, my mom didn't know what I was doing. She could hardly understand that online media can be a great career option. Later when I started getting some media coverage, my mom and my sisters started feeling proud of me.
Digital Guruji: what's your daily life routine?
Leena Duwadi: I wake up around 7. I listen to spiritual session. I finish up my daily morning chores. I spend 10 around hours at office.
Apart from usual house routine, I read/watch good content oriented stuff and news at night. On weekends, I read more and I watch more.
Digital Guruji: How was your 2018?
Leena Duwadi: For me, the year 2018 happened to be a wonderful one. I visited China, Nepal, Netherlands and multiple cities in India in 2018. Also learned a lot of things, Met a lot of new people, made a lot of good memories.
I look forward to have a great year ahead.