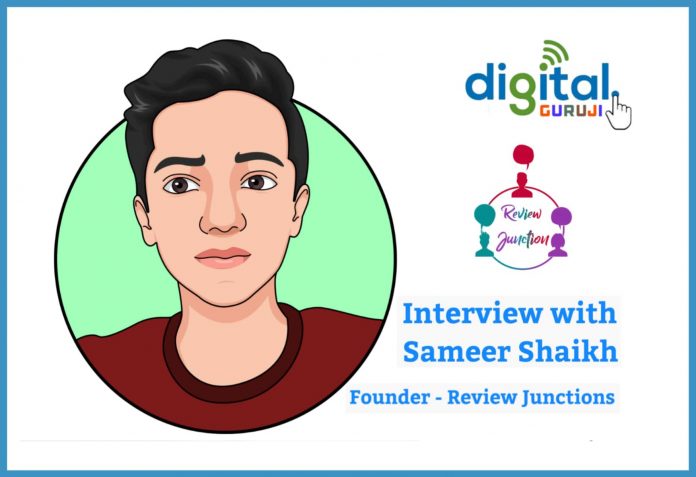 Interview with Sameer Shaikh Founder – Review Junction
It's always a pleasure to meet industry experts and know about their entrepreneurial journey. There are so many things we can learn from their experience, which is precisely why we will highlight the journey of Sameer Shaikh – Founder of Review Junction in today's interview.
For those who don't know about his firm, Review Junction is a one-stop solution that can help you stay ahead in today's digital world. It provides management support to Public Figures & Influencers to mark their presence online!
Digital Guruji : Please introduce yourself to our audience.

Sameer Shaikh : Hey! This is Sam, Digital Marketeng Strartegist & also a Proud Entrepreneur. Lemme tell you, what all I have got here. So, I have Founded Review Junctions (Digital Marketing & Management Company), having its 7 different Ventures Successfully Running on the go!
Digital Guruji :
How did you started Review Junction?
Sameer Shaikh : Oh you're moving straight ha! Well Review Junction is one of the top rated and highly appreciated digital marketing agency based in the National Capital Region of India (NCR). It was started in August, 2016 by Me & Arish Khan with a vision to encourage digital marketing and digital media in India.
At the initial moment we started at our own will and investment but now Review Junctions comes up with a beautiful and promising team of 17+ marketing geeks from different parts of India. Now Review Junction has 6 different ventures of its own on the internet. Review Junctions promises to come up with excellent services, support and presentation.
You Know well that Happy customers are the foundation of Review Junction with over 96% + Success Rate till date, Review Junctions is the #1 Digital Marketing Company. I think this was all for you to know! Thank you.
Digital Guruji :
 You seems to be successful at a small age, what your parents say?
Sameer Shaikh : Who calls it success? I know upon what you're asking me this haha! Leave it. However I keep my parents aware of my every steps however they are not emerged in marketing. But they believe in me, they trust that whatever I do will be right. This make me hustle even 17/18 hour's a day.

Digital Guruji :
What kind of problems did you faced while your journey towards Review Junction?
Sameer Shaikh : I've faced lot of problems but the beautiful promising team Of Review Junction Never Gives Up! A big thumbs up to Saurav & Ashish from here for their continuous solutions to get rid of the problems we've faced. you guy's are just gems to Review Junction.

Digital Guruji :
 How do you manage your time?
Sameer Shaikh : Time is precious, particularly when it comes to running up a business. Yet there are never more than 24 hours in a day. Some entrepreneurs respond to this fact of life with focus and purpose. Others freak out. Likewise my daily routine is just something different from others I Follow Night Owl. That's it.

---
Also Read:
---
Digital Guruji :
What are your Future Plans?
Sameer Shaikh : First Plan to clear peoples mind and gain up a position that RJ means Review Junction & not radio jockey anymore. Team Review Junction comes up with a new plan every month as per the trends and the social market value.
We have various upcoming project's with some serious investors ongoing and some are scheduled for 2022.
Digital Guruji : How would you define true entrepreneurship?
Sameer Shaikh : 
First, to do the stuff I want to do, but you have to deliver value and do it consistently, and second, you should be able to have a clarity of thought.
A true entrepreneur can explain what they do in any language that his client needs to understand it. You should be able to explain it to yourself and have clarity. Rest your team leads you!
Digital Guruji : 
Who is your ideal and why?
Sameer Shaikh : The King Shah Rukh Khan is my ideal indeed!
I follow SRK in my life whatever it maybe SRK taught something from his movies. DDLJ made me his Fan in a way that i can go mad for his movies.
He is a self-made and self-fed person coming from a ordinary family Background with no sources to Bollywood,no friends or relatives and still, he managed to create a charm which no other actor,ever can do.That surely means,that this man has something,something distinct from other actors. A huge international fan following,ultimately,he rules the world. He has really portrayed some of the best characters such as in Swades, Chak De India, Dilwale Dulhania Le Jayenge and many more.
Even the actors coming from big industrial family backgrounds can't portray them as the way he did.He can serious,as sweet as honey,as bad as a gangster and as romantic as rose when it comes to the role he plays and his acting.
Digital Guruji :
Any of your success stories you would like to share with us?
Sameer Shaikh : Yes, I'd like to share one testimonial from a client, who said that they have improved their profit in their ongoing sales after our campaign ended He personally metioned that it was just becuase of us. I fell proud! It was so nice to hear someone giving us a quantitative compliment, rather than a qualitative praise and this campaign was ongoing under Saurav's leadership that made me even more proud.

Digital Guruji :
How was your experience with Digital Guruji?
Sameer Shaikh : 
Quite Good, Thank you for providing me this opportunity to be here! You are going great Digital Guruji. Best Of Luck.

Dear DG Readers the sky is waiting for you fly high. All I have is this for you to follow.
I think you all had surely enjoyed the Exclusive Interview with Founder of Review Junction, Sameer Shaikh. Have some questions ?? Don't wait, Ask it right now !! Comment below and Sameer will be pleased to answer you .