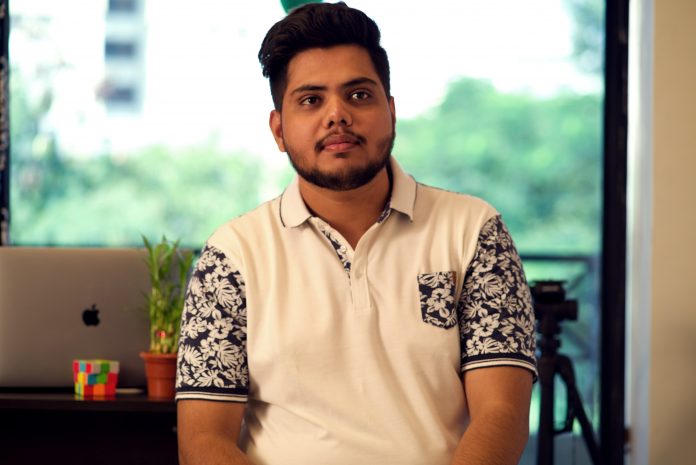 Satyam Shastri is the Co Founder of – Psifiako Media and
NOC (No One cares)
, which is an ever-increasing international platform that aims to serve the smiles on people's face through its unique content. Psifiako Media is based in Pune works with national clients for their marketing /promotion /content /social media researches etc. by using their experience in managing NOC and followers.
Psifiako Media
has won the Best social media content award – Pune in 2018. It is the India's first company that has more than 36 million social media followers.
"If anyone wants to create popular content, they should focus on what people like. Not only on what you like. You have to think according to your audience, what they will connect with."
#DGTalk Interview with Satyam Shastri
Digital Guruji: Please introduce yourself to the Digital Guruji Audience.
Satyam Shastri:
Hello everyone, I am Satyam Shashtri, a normal being just like you all but with a dream of achieving something extraordinary in my eyes. I am 20 years old and the co-founder and chairman of Psifiako Media which is a home of
No one cares
and 3 other communities like it.
I belong to the heart of the nation Madhya Pradesh, my father works in a private firm as a manager who just like every other dad wanted his son to indulge himself in studies. But from the very start, I knew I was made for something else that's why I dropped out from Polytechnic engineering. My mother, on the other hand, is a homemaker and supported me through every thick and thin like any other mother would.
Digital Guruji: How did you started No One Cares – NOC ?
Satyam Shastri: NOC ( No One Cares) is more like a passion than a dream. I co-founded this page with my close friend Nikhil Kale. We both had the same mindset for life, to do something different and to achieve something big so we decided to join hands and work together. As a result of it, No one cares was started in 2016.
The page was started with the intention of influencing people's life with positivity and entertainment and we work very hard in fulfilling every promise we have made to our users.
Digital Guruji: What's your educational qualification?
Satyam Shastri: As I mentioned before, I am a college dropout. I was studying polytechnic engineering first then I decided to drop it to start something new.
Digital Guruji: What kind of problems you faced during the journey of No One Cares – NOC?
Satyam Shastri: Like any other startup plan, our first issue was of investment. We were new to this field and was aiming towards big heights that need investment that we were short of. We had just 15000 rs, to start with, we invested all these money in promotion and marketing that helped us in getting 1 lakh followers.
But now that was all we had so now our one and the only hope was an organic reach. We focused on creating engaging content that helped us keep going.
Digital Guruji: What did you do to get rid of it?
Satyam Shastri: We concentrated on gaining followers organically. That means we did not spend any money on promotions and marketing, we just tried to engage our audience with the trending and unique content. And in no time our content was getting viral through sharing and was getting a lot of attention.
Digital Guruji: What are your future plans?
Satyam Shastri: Our further plans are to focus more on No one cares videos, which is an inseparable part of No one cares community. This is the page where we post videos. So our plan is to gain more followers through the inspirational videos that will bring positivity to your life.
Digital Guruji: How do you manage your time?
Satyam Shastri: With time I have learned to manage my personal and professional life side by side. Though that doesn't make it any easier. At times I don't even get free time for myself but that's okay as I get to see the smile on the face of people that I love. My schedule is too packed, it starts at 8 AM in the morning and ends at 3 AM. Meanwhile, I work and spend time with my family.
---
---
Digital Guruji: Any success mantras for Digital Guruji readers?
Satyam Shastri: I believe that whatever you do just do it with passion. Though I also deny the fact that hard work is everything, I prefer smart work more than hard work. If you do not have the knowledge, right information, and strategic planning for what you are doing, it is just going to consume your double time what you could have avoided if you did smart work.
Plus it is most important to know what your audience is expecting from you and what you are offering them is satisfactory or not. We believe in serving the quality content that's why we always put quality above quantity.
Digital Guruji: Satyam Shastri, what makes you feel happy?
Satyam Shastri: Appreciation and value for work is something I seek the most. I feel the happiest when someone praises my work and gives me importance. Through my work, I got the opportunity of meeting many reputable people and that's what I feel the happiest about.
Digital Guruji: What are your weaknesses?
Satyam Shastri: Initially, it was money. I didn't expect much financial support from my family. As I mentioned that my father works in a private firm that doesn't provide the amount of money that would be enough to run a family and invest in a business plan alongside. But I never let my weaknesses stop me from following my dreams. Struggles are a part of success and you just have to overcome it and that exactly what we did.
Digital Guruji: Satyam, Any incident in your life that you can't forget?
Satyam Shastri: Yes, I get a flashback from a year when I was in 12th class. I got hit by a car so bad that I was in ICU for 12 days. A drunken driver was driving that car and almost made me a victim of a major accident. That was the time when I used to run a page called 'Bollywood Khabri'.
This is the incident that I could never forget in my life. It was a tough time for me and my family. But hopefully through God's grace, as you can see, I am totally fine.
Digital Guruji: What was the reaction of your family members when you told them that you are going to start online earning?
Satyam Shastri: My family includes me, my sister, my father, and my mother. I admit that it was really hard convincing my father about dropping out of college and starting online earning. They didn't even believe it in the first place. But eventually, they kneel down in front of my stubbornness but still remained worried about me.
I still remember when my father gave me a green flag for my online work that was followed by a fatherly advice to just follow the right path and do not indulge yourself in something that might get you in trouble. And I kept my promise and today they are a proud parent.
Digital Guruji: Satyam, who is your ideal?
Satyam Shastri: I admire Jack Ma very much. He is like my inspiration and a role model. And I think he is a role model for everyone out there who is planning a startup. Jack Ma is a Chinese businessman and co-founder and chairman of Alibaba Group.He is among one of the richest people in China. Jack Ma is frequently listed among the most powerful people by Forbes.
Digital Guruji: What's your daily routine?
Satyam Shastri: As I said before, my day starts at 8 AM, I work from 8 AM to 6 PM with concentration. In meantime, I do not let any distractions affect me. Then from 6 PM to 10 PM, I spend time with my family. I try to be available for them as much as possible. Then again from 10 PM to 3 AM, I work till I sleep. My sleep time is generally 3 AM.
Here Ends the Interview with Satyam Shastri,Co Founder of Psifiako Media and NOC (No One cares). Don't Forget to comment the most inspirational lines from Satyam Shastri Interview.