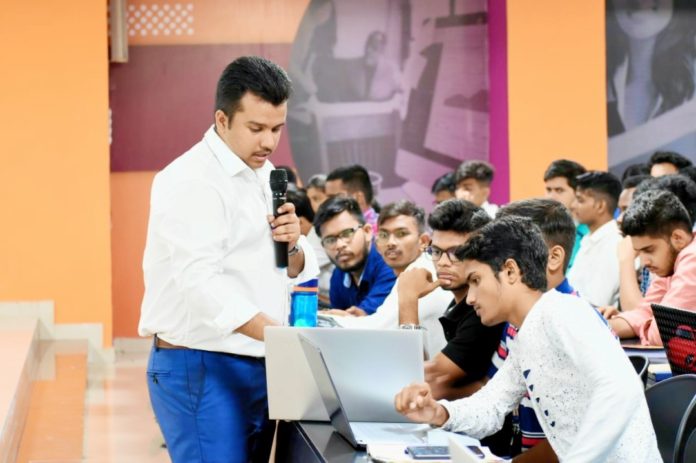 Very few people have the bravery to start out our own companies during our teenage years. And many of those who start to lose viewpoint midway through the journey. In all this, comes a young boy, who is assured that he will achieve in his mission.
Meet Mr. Vaibhav Jha, an Indian Cyber Security researcher, Public Speaker, Author, Technology Entrepreneur & Engineer. Vaibhav is the CEO of Intersquad Cyber Intelligence. Vaibhav had authored a book on cybersecurity and ethical hacking. Apart from this, he is the Mentor Of Change working on the Atal Innovation Mission under NITI Aayog. Being the Public Speaker Vaibhav has given his talks on the various realm of cybersecurity in different schools, colleges, and universities which comprise Lovely Professional University, Delhi Technical University, Jaypee Institute Of Information & technology, and Manav Rachna International Institute Of Research & Studies.
His major fields of research are IoT Security, Robotics, wireless security, SOC/SIEM, Automobile Security, and CyberPsychology. Vaibhav has also worked with the Ministry of Electronics & Information Technology (Union Government) on various projects as an external resource person.
At the age of 17, Vaibhav founded Intersquad Cyber Intelligence, a cybersecurity company, the enterprise secures Information Technology environment and give digital security to organizations and institutions. Apart from this, they also give professional cybersecurity guidance in corporate sectors and educational institutions. The enterprise is nurtured out of Manav Rachna International University (Faridabad, Haryana). Dimcats have their Research Labs in Manav Rachna Innovation and Incubation Centre.
Vaibhav Jha Interview
Digital Guruji : Tell us a bit about yourself.
Vaibhav Jha : Hello everyone ! My name is Vaibhav Jha, I am an Indian Author, Cyber Security Researcher, Public Speaker, Entrepreneur, and a YouTuber.
Digital Guruji : What are your professional experiences to date?
Vaibhav Jha : So here are some of the organizations I am associated till date
Founder & CEO of Intersquad Cyber Intelligence,
External resource person at the Ministry of Electronics & Information Technology,
A faculty member at Comptroller Auditor General of India
Chapter leader of OWASP Noida
Mentor of Change at NITI Aayog
Digital Guruji : What does InterSquad do?
Vaibhav Jha : I launched this startup in my second year of engineering, with the aim and mission of securing this digital world from the most strenuous cyber attacks. The mission of my company is to build up the strong community of Cyber Security Researchers, who will be finding the most critical vulnerabilities in any IT Infrastructure so that we can deliver our customers the best services and products. Rather than being rivals in the business, my motto is to work together under a single umbrella so that we can count back the cyber terrorism and hackers in the most significant manner.
We do train people, give workshops and training in school. colleges, corporates & LEA's.
Digital Guruji : What were the challenges that you faced at Starting Phase?
Vaibhav Jha : Forming up the team was the biggest challenge, as you have to identify the real talent when you kick start your startup.
Digital Guruji : What are the future goals of your venture?
Vaibhav Jha : As of now, I am planning to take it to a global level. Though it will definitely take years,one day it will be.
---
Also Read:
---
Digital Guruji : What are your areas of expertise?
Vaibhav Jha : Basically my key domains are wireless security, automation, and IoT security, Robotics, SOAR (Security Orchestration, Automation and Response) and Cyber Crime Investigation.
Digital Guruji : How do you define success?
Vaibhav Jha : Success is an ongoing process, it's a combination of achieving personal goals and learning new things. One should always be goal-oriented as constructive goals motivate us to push ourselves and grow. By achieving the goals it not only boosts our morale but it also makes us more productive and hence we become more inclined towards success.
Digital Guruji : What were you doing before choosing this field?
Vaibhav Jha : I was busy in enhancing my technical skills and improving my grades.
Digital Guruji : Tell us something about your education.
Vaibhav Jha : I completed my schooling from Adarsh Public Sr. Sec School, Noida, and further did Computer Science Engineering from Manav Rachna International Institute of Research & Studies, Faridabad. Right from my schooling, I was a technology freak and I got a boost on this during my Engineering.
Digital Guruji : Any Special Achievements you want to share with us?
Vaibhav Jha : There is n number of achievements till date, First of all, my first book "Hack The World Before World Hacks You" which I authored in the second year of engineering later I organized a National Cyber Security Conference in my college where I managed to invite top-notch cyber experts from the country.
Being a keen researcher, I have a couple of research papers published and I am still working on some confidential projects. Seeing my contribution to cyberspace IEEE and Amity Dubai gave me the tag and Award of Budding researcher.
Digital Guruji : Tell us how a day in your life looks like?
Vaibhav Jha : I wake up early in the morning at 5 AM, without wasting a minute I worship God, my guru, and out of 24 hrs I dedicate more than 10 hrs in front of my laptop which includes research work, video editing of my vlogs. And on weekends GitHub is my fav destination to roam around.
Digital Guruji : If you were given a choice of meeting any person you want, who will be that person?
Vaibhav Jha : Prolonged List is there.
Digital Guruji : The most memorable day of your life?
Vaibhav Jha : The day I got the opportunity to train IA & AS Officers of India. The respect that salute which I received was the most cherishable moment of my life. Training those officers was the biggest ever achievement in my life.
Digital Guruji : What is your greatest fear?
Vaibhav Jha : Yeh, so the biggest fear right from my childhood is meeting the deadline, though I have never ever bypassed the deadline yes planning for the task gives me a Lil fear. Apart from technology freak, I am also a quality freak, so I can't compromise with the quality of my work. Therefore sometimes forethought gives me a shiver.
---
Also Read:
---
Digital Guruji : Tell us about your learning in this entrepreneurship journey.
Vaibhav Jha : The famous dialogue of 3 Idiots: Run behind the excellence, success will pounce back on you.
Digital Guruji : What next? What are your future goal?
Vaibhav Jha : I am planning to pursue post-graduation specifically in information Security, might be this year or next, and thus planning to acquire some international experience, interacting with top hackers around the globe, learning new skills and techniques are some of my future plans till date.
Digital Guruji : Why did you start your YouTube Channel SCORPION VJ even after a lot of fame ?
Vaibhav Jha : It's not about fame, it's about interacting with a huge audience, at SCORPION VJ I post videos related to technology, education, traveling and some personal vlogs in which I share my day to day lifestyle with a hope one day another Vaibhav will come up and could help the community.
Digital Guruji : What advice would you like to give our young readers?
Vaibhav Jha : The only advice I want to give is to focus on your goal, make a proper plan, before starting out anything new. Maintain your personal notes/diary and every morning right all the goals and tasks which you have to achieve in the day. And gradually when you complete the task mark it as done. This will not only streamline your working capability but also will enhance your productivity and motivation.
For Security enthusiasts, read blogs, watch youtube videos on any specific topic. Make GitHub as your fav. a place to visit. Many free books are there, try to get free certifications as max as possible. And still, if anyone faces any issue I am here, anyone can contact me via my social media handles its common everywhere be it LinkedIn, Instagram or twitter – @vaibhavkrjha or can visit my website www.vaibhavjha.com