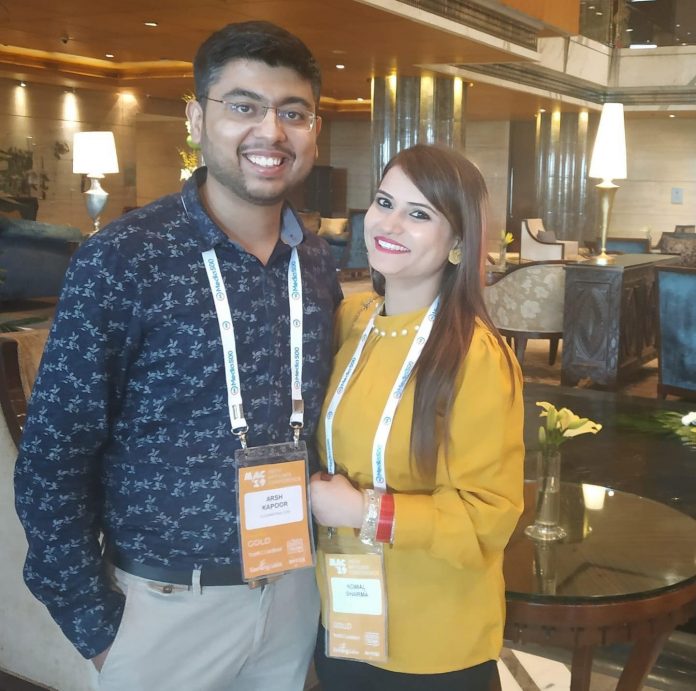 Arsh Kapoor is the Founder of ClickRetina, a Digital Marketing, Web Design, SEO & digital services agency that is known for providing strong building blocks for organizations planning to reap the benefits of the internet. Arsh belongs to Bahraich, Uttar Pradesh, currently residing in Lucknow. He completed his basic education from City Montessori School, Lucknow, and graduated from Sri Ram Swaroop University. Interview with Young and Inspiring Entrepreneur Arsh Kapoor, Founder of ClickRetina.
Arsh Kapoor Personal Information
Full Birth Name
Arsh Kapoor
Nick name
Arsh
Date of Birth (DOB), Birthday
May 30, 1991
Hometown
Bahraich, Uttar Pradesh
Current Residence
Lucknow, Uttar Pradesh
Nationality
Indian
Star Sign (Zodiac Sign)
Gemini
Famous For
1. Founder of ClickRetina.
2. Search Engine Optimizer.
3. Entrepreneur.
Marital Status
Married
Highest Qualification
B.Tech
School
City Montessori School, Lucknow
College/University
Sri Ram Swaroop University
Hobbies
Playing Table Tennis
Dream Holiday Destination
USA
Wife
Komal Arsh Kapoor
Facebook
Link
Instagram
Link
Arsh Kapoor Interview
Digital Guruji : Tell us a bit about yourself. Where are you from and where did you grow up?
Arsh Kapoor : Hello, I'm Arsh Kapoor, a digital marketing entrepreneur residing in Lucknow born and bought up in Behraich. Like all normal entrepreneurs, I love to hang out with friends, spend time with my family, and establish an understanding relationship with my employees.
Digital Guruji : How did this all begin? What started your Entrepreneurial journey?
Arsh Kapoor : All of this began when I was in the 11th standard, my entrepreneurial journey was pushed through because of my interest in this field from the very beginning. So I started my path on digital marketing in a pre-planned order keeping my goal in mind.
Digital Guruji : How was ClickRetina founded? It would be helpful for people if you share the ClickRetina journey.
Arsh Kapoor : ClickRetina was founded back in the year 2014, If I talk about my journey, I would rather say that it was a quite simple one and without much ups and downs to share about. I have always been accompanied by a supportive and hardworking team to comprehend my brand.
Founder of ClickRetina – Arsh Kapoor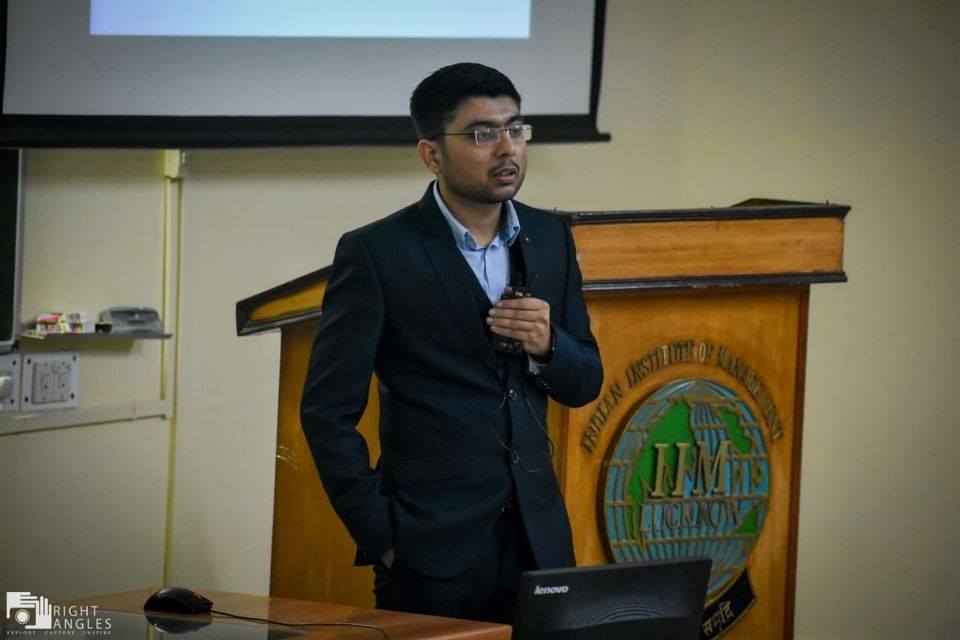 Digital Guruji : May We know, How did the idea for your business come about?
Arsh Kapoor : I was pretty clear in my mind about my future plans regarding ClickRetina from the very beginning, so the idea of establishing a digital marketing company was already quite firm in my mind and the strategies were all set before stepping into this market.
Digital Guruji : What does ClickRetina do?
Arsh Kapoor : Any and everything you need for your website's development. ClickRetina provides digital marketing services to companies worldwide along with website designing as well as seo training.
Digital Guruji : What were the challenges that you faced initially at Click Retina and how did you overcome it?
Arsh Kapoor : My initial challenges were somewhat severe, there were times when I was abandoned by my staff and suffered major losses on projects that were given a whole year's time, although I had little support from my family at the beginning that also subsided with time as they realized how well I was going with my company.
Digital Guruji : Does your work have a social motive behind it?
Arsh Kapoor : Yes, my main motive stands to be proving a reliable and efficient digital marketing experience for my clients through my company under a dedicated and punctual atmosphere.
Digital Guruji : Tell us about the people who impacted your journey.
Arsh Kapoor : Genuinely speaking with time I was able to learn a lot from people I met through my journey, some had a bad impact, some also had a good one but in the end, I was able to learn from these influences. As much as I want to give that credit to myself, as I was the one who firmly believed in this idea and brought it up into life but still these things and yangs that influenced me were a major part of my growth.
---
Also Read:
---
Digital Guruji : How do you define success? Are you satisfied with your achievements? What is your most significant success to date?
Arsh Kapoor : Success if I define it would be attaining whatever you had dreamt of accomplished and put right within your grasp. My biggest achievement so far in my opinion would be ranking my blog above news channels that were supposed to be at the top for IPL updates. It was quite an impressive impression of my work.
Digital Guruji : Your previous jobs/ventures? What were you doing before choosing this field?
Arsh Kapoor : I worked as an employee for a brief period of 6 months that too during my college time apart from that I was self-employed from the start, so yeah, I never worked for any other organization as such. So yeah, my target was pretty much already set.
Digital Guruji : What are your biggest achievements and falls in your journey?
Arsh Kapoor : My biggest downfall so far would be the parting away of many of my old employees all at once, although if had a negative impact on me it did also have a positive one in certain ways as I was able to learn the ability to stand up from a major setback which prepared me for future obstacles that I might have to encounter.
Digital Guruji : Tell us something about your education & family background.
Arsh Kapoor : I was fortunate enough to be educated at one of the best schools of my city and graduated with a bachelor's degree in technology in computer science. My family background includes both my parents being bank employees and me as the owner of this company.
Digital Guruji : How has been the support from friends and family?
Arsh Kapoor : Excellent, I did not have much support from my parents initially but all is good now as I am doing quite well with my company, they were able to understand that I was choosing what I was passionate about and later supported me for what I was working hard on. My friends always had my back and supported me at every step, although I had disputes with some but those who stayed supported me all the way.
Digital Guruji : Any Special Achievements you want to share with us?
Arsh Kapoor : Getting partnered with google as a trusted company is one of those special achievements that I will always love to boast about. It was the result of my dedication and perseverance towards this field that made this achievement possible.
Digital Guruji : If you had a magic stick, which are the two things you would change in the world?
Arsh Kapoor : If I had such an opportunity I would definitely want to erase the concept of google algorithm updates. It bugs me a lot! Also, I would want to remove poverty from this world as my second wish.
Digital Guruji : What is the best way to learn digital marketing?
Arsh Kapoor : If it was me putting up my personal view on this topic I would recommend that the best way of doing that would be understanding what the search engine wants your website to be like, following their updates and norms is the key, textbook stuff is what people often tend to lean towards but I feel that would not get you too far in this field.
---
Also Read:
---
Digital Guruji : If you had the chance to start your career over again, what would you do differently?
Arsh Kapoor : Definitely, yes! I have a lot that comes into my mind when I think about this, some mistakes that I did in the past which I definitely want to alter which might have had a much greater growth impact on my brand.
Digital Guruji : What inspires you? Whose work has influenced you most?
Arsh Kapoor : Learning from events and people that have been an impact on my journey be it good or bad is what gave me the inspiration, ups and down are a part of life, I'd quote "failures are the stepping stone to success".
Digital Guruji : Tell us how a day in your life looks like? Your schedule for a day right from the time you get up till you hit the bed at night.
Arsh Kapoor : Quite a simple schedule if I tell you, waking up, greeting my loved ones, off to the company, working the day out and returning back to my residence. Anything a normal person would do but the difference would be working hard for something that inspires you motivates you at the same time.
Digital Guruji : If you were given a choice of meeting any person you want, who will be that person?
Arsh Kapoor : Mr. Narendra Modi for sure. He is one of those personalities that inspires me a lot for my path for shaping a better tomorrow.
Digital Guruji : What are the qualities you look for in a candidate when you hire for ClickRetina?
Arsh Kapoor : Dedication and punctuality towards work is what I look for. These are the main two factors that not just me but anyone owning a brand would initially consider in their mind before hiring someone.
Digital Guruji : What is the biggest misconception that you think people have about you?
Arsh Kapoor : I do not have much idea about this what people are thinking about me but I guess that I am outspoken and sometimes people take it in the wrong way.
Digital Guruji : What is your greatest fear, and how do you manage fear?
Arsh Kapoor : Honestly my greatest fear would be giving a public speech, and I tackle it by giving one whenever I get the chance to.
---
Also Read:
---
Digital Guruji : Tell us about your learning's in this entrepreneurship journey.
Arsh Kapoor : Throughout this journey I learned the ways of the digital marketing world and dealing with organizations that were in need which in some ways aided me as well in developing greater skill sets with time.
Digital Guruji : How do you stay updated on the latest trends in Market?
Arsh Kapoor : Keeping yourself in touch with google updates regarding ranking and implementation on trends that follow are the best ways to do so. You have to be always updated about what google is introducing next into its algorithm otherwise you might have a tough time ranking your project at the desired position.
Digital Guruji : What next? What are your future goals?
Arsh Kapoor : To expand my company and to provide quality and reliable services to my clients.
Digital Guruji : What advice would you like to give our young readers?
Arsh Kapoor : My advice to them would be in believing in their dreams and striving hard to achieve them, caring about what others have to say will never make a difference. Create your own goal and strive hard towards it. Things might get difficult but eventually you will see the light at the end of the tunnel.
Here Ends Interview with Young and Inspiring Entrepreneur Arsh Kapoor, Founder of ClickRetina.