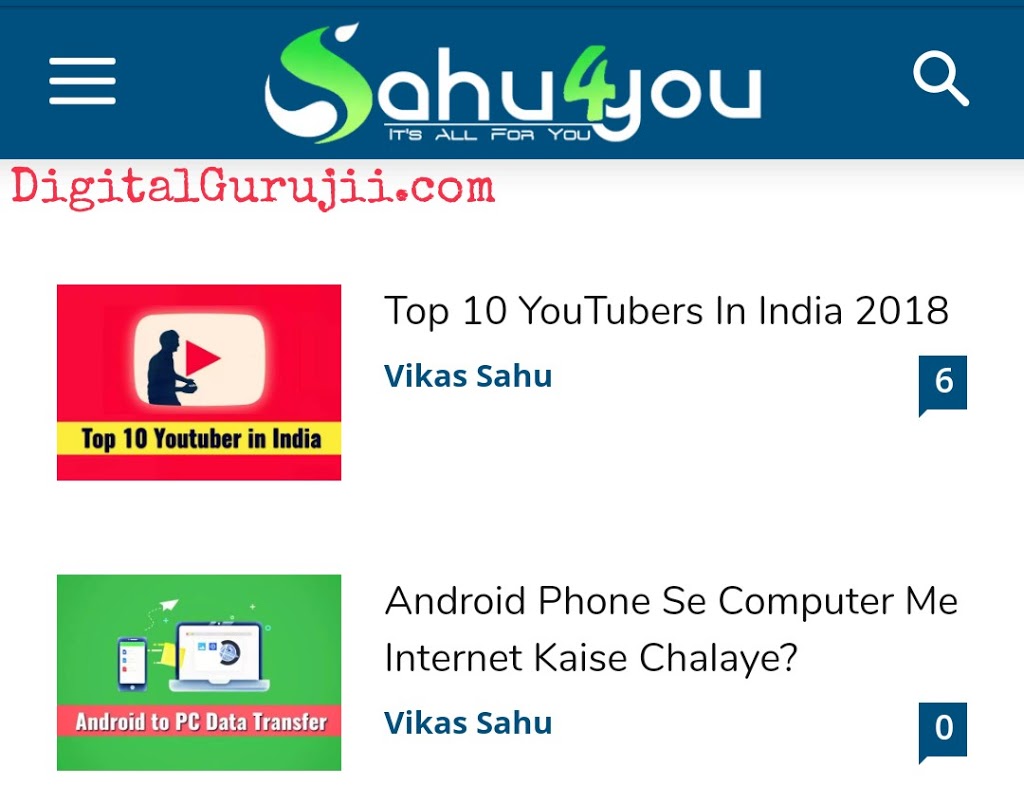 #DGTalk An Interesting Talk With Blogger Vikas Sahu

आज डिजिटल गुरूजी top 10 हिंदी ब्लॉगर में शामिल श्री विकास साहू जो sahu4you.com के फाउंडर है, उनका इंटरव्यू आपके साथ शेयर करेंगे
विकास साहू जी ने एकदम सही कहा है, कुछ लोग सफलता के सिर्फ सपने देखते हैं, जबकि दूसरे लोग उठ खड़े होकर इसके लिए कड़ी मेहनत करते है ।
Digital Guruji:  आपने क्या सोचकर Sahu4You.com नामक ब्लॉग शुरू करा?

Vikas Sahu : Mera Ek Hi Dream Tha Ki Me Mere Name Ka Website Banau, Jab Mujhe Iska Idea Aaya To Mere Paas Achha Mobile Nahi Tha, Iske Liye Mere Friend "Narendra Dagar" Ko Domain SahuWorld Purchased Karne Ko Bola Par SahuWorld Available Nhi Hone Par Maine Sahu4You Domain Registered Kiya.
Also Read:
Twitter Profile of Vikas Sahu
Also Read:
तो दोस्तों ये tha Vikas Sahu जी का interview, दोस्तों आपको ये post कैसी लगी इसके बारे में आप हमें Comment में बताने की कृपा करे. 
दोस्तों यदि आप भी एक Blogger, Youtuber, Business Owner या Entrepreneur हैं और हमारे DG Talk में आना चाहते हैं तो आपका बहुत – बहुत स्वागत है.
और अगर आपका कोई भी सवाल हो तो आप नीचे कमेंट करके हमसे पूछ सकते हैं हम आपके सवाल का जवाब जरुर देंगे, और आपकी हेल्प करेंगे

l