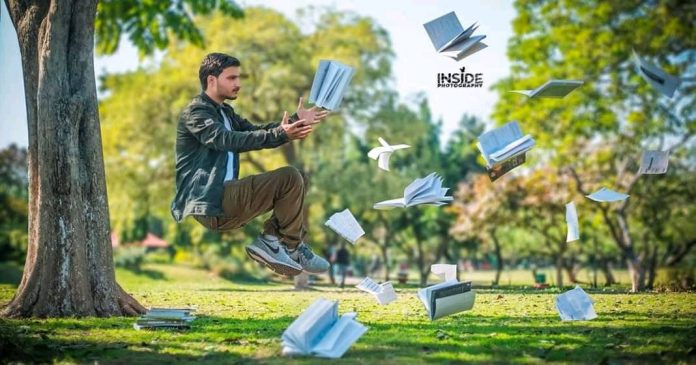 Certificate and degree are just a piece of paper. Real wealth is your personality, which is not made in a few days, for that one has to sacrifice, penance, and toil, which no one can take away from you in a moment. This is not a mere word, it has been proved by the founder of Inside Motion Pictures, Akhil Kumar Yadav (InsideAKY).
Akhil Kumar Yadav was born on 16 January 1994 in Faizabad, a small village in Mahendragarh district of Haryana. Their family started living in Panchkula, a city adjoining Chandigarh due to his father's transfer in 2000. InsideAKY completed his basic education from Holy child school. During his school days, he participated in district level and province level cricket competition in football, basketball, and cricket.
Akhil (InsideAKY) was also made the sports captain of his school due to his outstanding performance in sports, scoring good marks in tenth, Akhil (InsideAKY) got enrolled in the GMSSS 8 Chandigarh. He chose non-medical subjects. During the studies of 11th and 12th standard Akhil started giving tuition to normal children at low fees. After getting good marks in 12th, he got admission to the B.Tech course in Chandigarh Group of Colleges.
But this year, his life took a different turn and he started film making music (VFX and Animation) at home. In the first two semesters of BTech, Akhil got good numbers but he decided that now he would give all his time to VFX Animation and Music. His family does not support this decision of Akhil Yadav, later on they agreed.
Akhil Kumar Yadav started studying VFX Animation from his own small computer. He also enrolled in the course of VFX Animation but his mind was distracted by the methods of teaching there. Now InsideAKY started spending time at home learning new software and techniques. For the coming two years, from 2014 to 2016, he learned hard and worked as if this year should be austerity for him. Akhil also started his company Inside Motion Pictures and started making short films. Gradually his work started to be liked by the people of music and industry and his work of VFX video started to attract big stars.
As time passed, he started earning some money, which he used to buy new computers, cameras, and other accessories. He bought all the things used in his work with his hard-earned money and never let the extra burden on the family. Akhil is the only artist in the Punjab Industry who knows to run most of the VFX software.
Akhil said that in view of his ability, the makers of the big Punjab Industry approached him. Whether the work of Sidhu Moose Wala or Parmish Verma, Dilpreet Dhillon or Mukh Mantri, Akira, or R Jay Akhil Kumar Yadav – InsideAKY is liked by everyone. Today everyone knows them by the name of InsideAKY. Today most of the big producers want to get VFX editing done by Akhil.
He also makes short films on social topics as well and put VFX Animation tutorials on his youtube channel Inside Motion Pictures. He has also got an opportunity to work for Bollywood films, but he did not have any desire to do so, because from the beginning he never gave any priority to money.
Despite many difficulties, today Akhil Yadav has his own institute called Inside Institute in Panchkula, where he trains and employs a lot of youth. At a young age, Akhil has achieved a lot all due to his sacrifice, penance, and hard work which comes from inspiration itself. The success story of Akhil Kumar Yadav – InsideAKY
Akhil Kumar Yadav – InsideAKY Personal Information
Full Birth Name
Akhil Kumar Yadav
Nickname
InsideAKY
Date of Birth (DOB), Birthday
Jan 16, 1994
Hometown
Narnaul, Haryana
Current Residence
Panchkula, Haryana
Nationality
Indian
Famous For
1. Inside Motion Pictures
2. VFX Director
3. Film Making
Marital Status
Unmarried
School
GMSSS 8 Chandigarh
Hobbies
Playing cricket, Traveling
Favorite Color
Blue
Best Friend
Himanshu Dhar
Dream Holiday Destination
New Zealand
Akhil Kumar Yadav – InsideAKY Interview
Digital Guruji : Tell us a bit about yourself. Where are you from and where did you grow up?
Akhil Kumar Yadav InsideAKY : My name is Akhil Kumar Yadav (InsideAKY), founder of Inside Motion Pictures. I am basically from Narnaul, Haryana, and living in Panchkula for the last 20 years.
Digital Guruji : How did this all begin? What started your Entrepreneurial journey?
Akhil Kumar Yadav InsideAKY : I had a great interest in Filmmaking since childhood, and having my own company and working towards my own goals was always the way I wanted to live my life.
Digital Guruji : How was Inside Motion Pictures founded?
Akhil Kumar Yadav InsideAKY : Inside Motion Pictures was founded by me & my childhood friend Himanshu Dhar. We are very close friends and our way of thinking is really similar. So, when I thought of getting together a team of artists and then shaping it into a film company, he was the obvious choice.
Himanshu & my other close friend Dheeraj gave the name Inside Motion Pictures & I too liked it as it's a really positive word with endless possibilities. So we went with the name. We didn't know that no other company of the same name exists in the whole world. By coincidence, we got a very unique name.
---
Also Read:
---
Digital Guruji : May I know, How did the idea for your business come about?
Akhil Kumar Yadav InsideAKY : I was pursuing B.Tech in 2013-14 but I always wanted to be a musician & filmmaker as I loved creating music & videos. So I decided to drop out in 2014 & work towards my passion.
In our beginning 3 years of work we never had earned money in our minds. It was purely a dedication towards improving our own skills & making ourselves as capable that we can create what we think of.
In the starting years, I used to teach maths and science tuition to school kids which helped us to fund our short films & Vfx videos. We set up a small studio in Himanshu's house in Sector 19, Panchkula.
We mostly created our own short films, photo edits & VFX edits. We started growing followers on Instagram through our creative photo edits. We also made a lot of VFX videos which ultimately helped us get a music video project of singer Sidhu Moosewala in 2018. We did the VFX of a song named 'Famous' in 2018 which really helped us take our skills out there to a larger audience. The visual effects of that song we did then became viral in the Punjabi music industry and we gained a lot of popularity.
We kept on doing different projects in 2018-2019. Then in December 2019, we got another VFX music video project of a song named 'Old Skool'. The song got viral and our work was appreciated widely.
Then it was never stopping back. We have done more than 10 big projects in 2020 which include music videos & visual effects projects of Punjabi singers like Sidhu Moosewala, Prem Dhillon, Kulwinder Billa, Dilpreet Dhillon, Maninder Buttar, Raja Gamechangerz, Parmish Verma & Gurlej Akhtar.
We've recently worked on the visual effects of Neha Kakkar & Jubin Nautiyal's music video 'Taaron ke Sheher'.
There are many more projects lined up which will be releasing soon.
Digital Guruji : What does Inside Motion Pictures do?
Akhil Kumar Yadav InsideAKY : Inside Motion Pictures is a Film Production, Music Video Production, and a Visual Effects Production company. We also have an institute in Panchkula Haryana where we teach students the art of Filmmaking & video editing/visual effects.
Digital Guruji : What were the challenges that you faced initially and how did you overcome it?
Akhil Kumar Yadav InsideAKY : The biggest challenge was to drop B.tech and choose filmmaking as my family didn't have any idea of this field nor I had any plan that I can share with them & get them into confidence. So, having very little support from my family and very lesser knowledge of earning through my art was the biggest challenge.
I guess my passion and love for creating films and visual effects made me overcome all these challenges. Also, the support from my friend and business partner Himanshu Dhar made me overcome all the fears and uncertainties that I had in my mind. So with the support of Himanshu & self-motivation lead me to overcome all challenges and create something that I had only dreamt of.
Digital Guruji : Does your work have a social motive behind it?
Akhil Kumar Yadav InsideAKY : As I told you we have an institute where we teach students. So educating new kids with the skillset and artwork that we have knowledge of is something that we've started with.
All our course fees are half and even lesser than that of all other institutions that provide the same courses that we do. So educating new artists and making them do so without keeping money as a priority has been our goal.
We wish to support all artists that we can by providing them the knowledge and enhancing their skills so that they can have a bright future.
Digital Guruji : Tell us about the people who impacted your journey.
Akhil Kumar Yadav InsideAKY : Starting with people that have always been with me, my friend Himanshu has been the most solid support. Also, my friend Dheeraj has been a great advisor. The principles of my father and the hard work and dedication of my mother give me the character to work the way I am doing right now.
Apart from this Stephen Hawkings has been a great influence in my life when I was in 10th grade, also visionary futurist Jaque Fresco helped me see the world and myself in a very different way. These people made me become what I am in different ways.
Digital Guruji : How do you define success? Are you satisfied with your achievements? What is your most significant success to date?
Akhil Kumar Yadav InsideAKY : Success to me is bringing thoughts to reality. If you can create what you think of at any point in time you're a successful person.
I am more than satisfied with what I have in life and I know I have greater potential, so I keep working towards setting and achieving new goals.
When I see people looking towards me as an idol and respecting me for what I have done has been the most significant success of my life.
Digital Guruji : Your previous jobs/ventures? What were you doing before choosing this field?
Akhil Kumar Yadav InsideAKY : I was pursuing B.Tech before becoming a filmmaker. Always had an interest in science, still have but telling stories and creating magical visuals is what I would love to do all my life.
Digital Guruji : What are your biggest achievements and falls in your journey?
Akhil Kumar Yadav InsideAKY : Having my own company, my own office and institute had been the biggest achievement. I don't see anything as a fall in my life so far. There have been ups and downs but I the love we have towards our work makes us stay positive, joyful and happy always.
Digital Guruji : Tell us something about your education & family background.
Akhil Kumar Yadav InsideAKY : I am a Btech drop out. My family is a normal Indian middle-class family. My mother Smt. Anita Yadav is a homemaker, father Sh. Suresh Kumar Yadav is a govt. Officer & I have a younger brother Nikhil Yadav who's studying in JNU pursuing his higher studies in Delhi.
We are the first generation in our families to be brought up in a city. I don't have a rich family background financially but I do have a very rich background of family values and good education.
Digital Guruji : How has been the support from friends and family?
Akhil Kumar Yadav InsideAKY : I have very limited friends. Mostly all my friends have been supportive to my work in different forms.
My family resisted in the beginning as they were not sure what I was doing but once I started getting good projects they've been very happy about it and are at last relieved about my career decision.
Digital Guruji : What is the part of your life experience you would alter if you had the chance to?
Akhil Kumar Yadav InsideAKY : I am happy with most everything that has happened in my life. So I think it's all good the way it has been. No changes.
Digital Guruji : What inspires you? Whose work has influenced you most?
Akhil Kumar Yadav InsideAKY : The one and the only Mr. Andrew Kramer from Videocopilot. He's the God of VFX.
Digital Guruji : Tell us how a day in your life looks like? Your schedule for a day right from the time you get up till you hit the bed at night.
Akhil Kumar Yadav InsideAKY : Right now as I am teaching also, the day starts with going to the office, teaching a class online, then discussing the ongoing projects with the team & taking an update, and finishing up the projects. Then teaching 2 classes in the evening again and finishing up more pending works. As we work on different projects simultaneously, it's very hectic. I spend most of my time in the office working and finishing up work one after another.
Digital Guruji : If you were given a choice of meeting any person you want, who will be that person?
Akhil Kumar Yadav InsideAKY : I don't have any person in mind as such but yes I would love to go to the past and just observe how the earth has been in the past.
Digital Guruji : What are the qualities you look for in a candidate when you hire for Inside Motion Pictures?
Akhil Kumar Yadav InsideAKY : Commitment, Honesty, Smart Work, Character.
Digital Guruji : What is your greatest fear, and how do you manage fear?
Akhil Kumar Yadav InsideAKY : No fear as such. I've lived and achieved more than I imagined. Everything I am living in is a bonus.
---
Also Read:
---
Digital Guruji : Tell us about your learning's in this entrepreneurship journey.
Akhil Kumar Yadav InsideAKY :
Stay focused, committed, dedicated, and honest to your work. This will lead you to success.
Never depend on anyone. Dependencies make you weak.
Speak less, work more.
Never underestimate anyone nor overrate anyone.
If your thinking has limits, your doing has limits. So don't limit your thoughts. You are capable of doing what you can think of.
The best learning has been that look "Inside" to know everything that's outside.
Digital Guruji : How do you stay updated on the latest trends in Market?
Akhil Kumar Yadav InsideAKY : Mostly through Instagram, YouTube & Google. It's such a vast field. So I just try to keep my social media-focused to work. I never follow unnecessary accounts.
Digital Guruji : If you were to write a book about yourself, how would you name it?
Akhil Kumar Yadav InsideAKY : Can't think of anything right now. I guess let's wait for the right thing.
Digital Guruji : What next? What are your future goals?
Akhil Kumar Yadav InsideAKY : To provide good education to artists and students and to create amazing films and music videos.
Digital Guruji : What advice would you like to give our young readers?
Akhil Kumar Yadav InsideAKY : If you get a fresh planet and you decide how life will be, how would you like everything to be. Just do what can be done to make things that way. Just do your bit, everything else will follow.
Here Ends Success story of Akhil Kumar Yadav – InsideAKY, founder of Inside Motion Pictures.