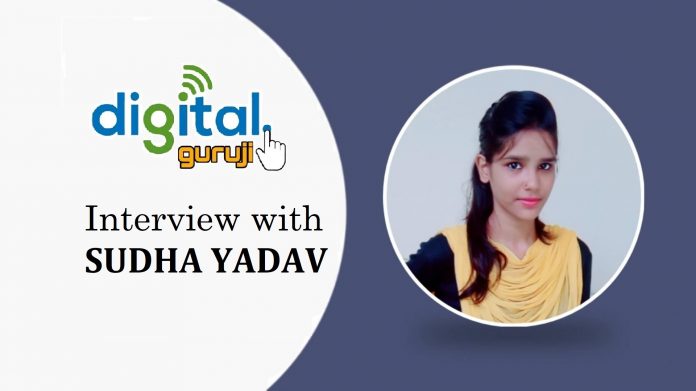 Storytelling is one of the most interesting moments of our childhood experience. However, in the world of smartphones, smart televisions & advanced technologies, we tend to be occupied by dreams and fantasies of living a life in a tech-savvy world where we never get time to live those childhood moments making us feel full of Life! This was a myth to us until we met this enterprising and dynamic Iconic Youth. Sudha Yadav is the CEO and Founder of Digital Guruji.
Sudha Yadav's dream startup Digital Guruji is an amazing initiative to highlight the work of social change makers who have made a positive impact on society by their work and yet remain unrecognized. Sudha has made several out of box decision towards her life and overcomes various challenges to bring Digital Guruji to this level, where she can actually proclaim about it!
Owner of Digital Guruji – Sudha Yadav
Sudha Yadav is the Founder of Digital Guruji. This young and energetic girl is a classic example to realize how you can make the best out of life without dragging on to diversions like 'women in tech'.
"If you don't know about technology, learn about it. Not a big deal", says Sudha Yadav, who has learned a lot of new things to handle the tech part of her startup 'Digital Guruji'.
She has an exceptional talent of taking decisions that are super aberrant, totally derived from her instincts, yet unbelievably they've been the best for her. This reflects well in Digital Guruji's vision and level of achievement.
Though Digital Guruji, Sudha wants to bring positivity and inspiration, in mind of the young readers by bringing out the inspiring real-life stories of inspirational souls contributing to society.
Following her this affection for writing, she originally started blogging from her class XII. An engineer drop-out, Sudha examines it to be her life's best decision.
"Opting for engineering was the worst, opting out was best", she says.
She took admission in BA in a Government College. On the decision, her Dad had told her,
"BA pass walon ko to kahi 10 hazaar se zyada ki naukri nahi milti"
And this moved her from within. Sudha started working for different companies as a social media manager even before she turned 18.
Soon Sudha started giving most of her time to Digital Guruji, she said I wasn't having enough resources to work, so I started using internet access from the college Library to work, bunking most of the classes.
"I enjoyed working on Digital Guruji so much, I couldn't think of myself doing anything else except digital guruji. I was learning something new every day. I would wake up early in the morning with something new to look forward to"
Through her dedicated and constant transformative efforts, Sudha has managed to change the opinion of "stories se paise kese kamaoge"
"No, we don't make a lot of money right now, but yes, we bear borderline. I am lucky with an incredible team of really, really ardent persons who have considered the idea even when it was nothing. These amazing people have given everything they can to shape it up. Things have started to fall in place now"
Digital Guruji runs native storytelling campaigns for brands and delivered content services to various organizations – as a revenue model.
"People have actually spoon-fed me. I've been very blessed to have been able to get in touch with the right people who've held my hands with no expectations at all. Everything began with favors, right from our website to the team, and I have no idea how to thank people for their tremendous support"
"I am okay. I make a lot of mistakes, I've been ending up irritating a lot of people, but I am figuring out how to fix things one by one."
Digital Guruji is also planning a crowd-funding campaign in the coming months.
"I don't want money to be a reason to not be able to tell stories and encourage people from one another. I am sure people who've supported the idea so far will come forward and help us step-up enough to be able to give elegance to thousands of stories out there, waiting to be heard by millions and inspire."
Digital Guruji offers people from all walks of life, from student to professional to come forward and to share their stories of hardships and success with the world and inspire other individuals.
Sudha Yadav Interview
Digital Guruji feels proud to share this story of Sudha Yadav, with the hope that she inspires many other youths to take a leading path to success.
Here is an outcome of a short interview with her.
Digital Guruji : How do you separate yourself with the Youths around or what is that special about you?
Sudha Yadav : I am never afraid of my so-called future. However, I also don't waste a lot of time 'relaxing'. I clearly know which kind of people to hang out with and for how long. The moment when I realize the other person's viewpoint is taking my IQ down, I snap out. Quite choosy, I ensure I surround myself with people who add value to my brains and soul in some or the other way. That's kind of selfish maybe, but it is okay.
Also, I am always very hungry to learn random, new things. Currently, I am learning how to repair shoes from a cobbler near my home – that art just aroused me a lot since childhood. It seems silly at times, but this gives me a kick and happiness!
---
Also Read:
---
Digital Guruji : What are some of your basic character and personality traits which helped you reach here or motivates you to move ahead achieving success in your life.
Sudha Yadav : I don't really think that someone should take cues from my life since it is the most RANDOM way of living a life. I don't think am successful yet.
But yes, I would like to tell people to not think a lot. I don't think if I've been afraid of doing what I've done in my life. I've been a risk-taker somehow, people say so. I lack the ability to see a 'risk' in something people easily see or be 'afraid' in taking steps that people usually are. And I think these inabilities have helped me grow a little faster than others.
Digital Guruji : How well the current ecosystem supported you to carry on your business idea?
Sudha Yadav : A lot!! Every single person we've interviewed has been an amazing help to me. I didn't even know 's' of a startup. People have actually spoon-fed me with the nuances of a startup and they still do. And every time I am going off-track, I feel blessed to have these amazing caring people, who bring me back to my senses.
I think I've been very shameless in asking for help and support from people, it's helped.
Digital Guruji : What social factors helped you expedite your career practice?
Sudha Yadav : I think I am blessed to have a brilliant network of amazing people who turn my keys on every time I go down on energy to be awesome.
Digital Guruji : What role does your Digital Guruji play in the economic and social development of the country?
Sudha Yadav : We encourage people from other people through storytelling and inspire them to make new things, do more help, contribute a little more to society. It gives me immense pleasure to help people build their own standards, thereby helping in the advancement of society.
Digital Guruji is an online media platform to discover and share positive and encouraging stories of people and initiatives that are making our world a better place to live in.
---
Also Read:
---
Digital Guruji : What are your suggestions to Youth looking forward to a start-up in the current market scenario?
Sudha Yadav : In one line — JUST START. Don't think/plan a lot. Jump in the ocean, tairna khud hi ajayega.
Be framed, having a startup isn't as fancy as it looks to be initially. There will be a lot of adjustments to make, a lot of things and people you'll surely lose..but someday it will all be worth it.
Digital Guruji : How large a factor LUCK played a role in your success?
Sudha Yadav : I've been very blessed to have found the right people – the right team, the right people to guide me, the right people to help me connect with other right people. Yes, I am too lucky, and this factor has helped me a lot to achieve all the difficult milestones easily.
Digital Guruji : Your Message to our youth readers?
Sudha Yadav : If you think you are doing nothing in life..it is okay. It is okay to chill, it is okay to not do outstanding things, it is okay to take your time out and it is DEFINITELY okay if you have no idea about your life or future. Take your time, figure things out. Only if you give time to yourself, you actually realize what is to be done next!
Digital Guruji is open to stories and inspiring content from our readers. Youngsters can contribute, you never know whom it will help.
Here Ends Interview with Sudha Yadav, Founder of Digital Guruji. Connect with Digital Guruji on Facebook, Instagram, Linkedin, Twitter, and Youtube.