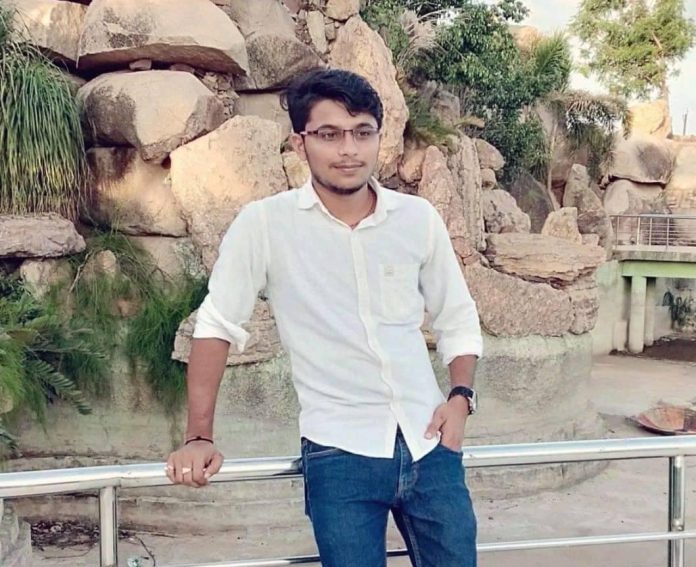 Himanshu Kumar Singh is a 23-years-old Young, Energetic and Inspiring Entrepreneur from Samastipur, Bihar. He is the CEO and Founder of Kalikahost Pvt. Ltd. – A Leading Web Hosting Provider Agency in India. Himanshu has completed his B.Tech In Computer Science from Kalinga University. Mr. Singh has had a keen interest in computers since childhood. He used to listen to old melodies in his free time. Himanshu Kumar Singh has a dream to do whatever he can do for his country to remove poverty, he has a strong belief that no one should sleep hungry. He distributes the % of earned profit through his organization to the needy and helpless people. Exclusive Interview with Founder of Kalikahost, Himanshu Kumar Singh.
Himanshu Kumar Singh Personal Information
Full Birth Name
Himanshu Kumar Singh
Nickname
Hemu
Age
23
Hometown
Samastipur
Current Residence
Raipur, Chhatisgarh
Nationality
Indian
Famous For
1. Founder of Kalikahost
2. Web Developer
3. Student
4. Social Activist
Marital Status
Single
Highest Qualification
B.Tech In Computer Science
School/ College
Kalinga University
Hobbies
Coding, Listening Music
Dream Holiday Destination
Singapore
Favorite Color
Black
Favorite Food
Sweets
Best Friends
Happy Singh
Himanshu Kumar Singh Interview
Digital Guruji : Tell us a bit about yourself.
Himanshu Kumar Singh : My name is Himanshu Kumar Singh, I am the founder of Web Hosting Company Kalikahost Pvt. Ltd. I am from a small village named Khajuri which is situated in Samstipur, Bihar. I was born and brought up in my village only. I am 22 years old. Apart from this, I am also working on Google Adsense and Facebook Ads. In my working field, people know me as Himanshu rock. I completed my graduation in BTech in computer science in the year 2021.
Digital Guruji : What started your Entrepreneurial journey?
Himanshu Kumar Singh : So at the beginning, it was unplanned I was just fascinated and curious about how the website is designed, how one person creates it and everyone can use it. You can understand my mindset as a youngster. I was searching for my answer at that time resources were limited so I collaborated with a local designer who started giving me work and started learning about languages and coding. Then I found that yes this is my passion and love to do this work more than anything else. Slowly this passion became my dream. A dream that never let me sleep. Every day I woke up with a hunger, a hunger of learning something new, a hunger of knowing more facts.
And talking about entrepreneurship  I don't think I am an entrepreneur I have taken some steps to move forward to achieve this title. Hope that day will be soon. So you can say that It all started with questions and it will be continued.
Digital Guruji : What inspires you?
Himanshu Kumar Singh : Every person who has started from 0 and achieved a lot inspires me the most. I remember a quote from Mr. Sundar Picha, "keep pushing your limits". This line always motivates me.
Digital Guruji : How was Kalikahost founded?
Himanshu Kumar Singh : When I thought that it's the correct time I must start my own company so the first thing that hit me was the name. I want my company name to be more close to my heart something that defines me. I am a great believer in the goddess Kali. From that belief and faith I thought to name my company on her that's why my company name is kali ka host (Kalika host). The journey was not easy every day competition knock on our door but we always work hard to serve the best.
---
Also Read:
---
Digital Guruji : How did the idea for your business come about?
Himanshu Kumar Singh : When I was working for someone else I was not given many opportunities according to my abilities. I want to do more so from that point I started my mind that yes, I want to start my own company and I will provide all opportunities to my fellow mates which were not given to me. I want to provide the most affordable and friendly services to our customers.
Digital Guruji : What does Kalikahost do?
Himanshu Kumar Singh : Speaking about Kalika host it is a hosting providing company here we host a website here, if you want we can design and host as per your need. Kalika host also provides ads etc. "YOU NAMED IT AND WE WILL PROVIDE THE SERVICE".
Digital Guruji :  What are the qualities you look for in a candidate when you hire for Kalikahost?
Himanshu Kumar Singh : While the hiring process I personally look for those candidates who have talent but at the same time they are curious to learn new think they have no boundaries. For me, knowledge is more important than a degree.
Digital Guruji : What were the challenges that you faced initially and how did you overcome them?
Himanshu Kumar Singh : Challenges make our work better. When you start your own business there are many issues like finances, lack of customers, building up of trust, keeping eyes on the foe. But as everyone says time makes everything correct you just keep doing your work, so same I did. Sometimes I also felt to quiet it but at the back of my mind, I also think that success is not given in gift we have to earn it. 
---
Also Read:
---
Digital Guruji : Does your work have a social motive behind it?
Himanshu Kumar Singh : Partially you can say that my work has a social motive. I want to create a webspace that is Indian and cheaper to use so that our Indian economy gets it. And my company provide jobs to youngster from backward or rural area who have talent but doesn't have right platform or opportunity. By doing this I want to employ those talents who are ignored due to their situation. I have seen all this situation from very close that's why I care for it. Hope someday my dream will become true.
Digital Guruji : Tell us about the people who impacted your journey.
Himanshu Kumar Singh : In my journey, I have observed many people but to get sucess it's very important to have the right path and good guardians I am blessed to have my parents in my life they motivated me a lot and always stand by me in my best and worst part of life. Apart from family, a good friends circle is also important because if we are spending time with positive people who show you the correct way and always boost you up then no one can pull you down. 
Digital Guruji : What is the biggest misconception that you think people have about you?
Himanshu Kumar Singh : The biggest misconception people have about me is that I am an easy target to knock down but sorry my politeness is not my boundaries.
Digital Guruji : How do you define success?
Himanshu Kumar Singh : For me, success means achieving the goals which you set at the everyday step of your life. If I want to purchase a phone and I worked for it and get it that means sucess for me.
Yes, I am happy and overwhelmed with whatever I am today.
Digital Guruji :  What is your greatest fear, and how do you manage fear?
Himanshu Kumar Singh : My greatest fear is to miss any talented people who came to me. To overcome this I personally like to Handels this work so that no talented people get disappointed from my side.
Digital Guruji : What are your biggest achievements and falls in your journey?
Himanshu Kumar Singh : My biggest achievement is to set up my own company. And my biggest fall was one of my 1st servers was hacked and that time was very hard for me.
Digital Guruji :  How has been the support from friends and family? 
Himanshu Kumar Singh : I always felt blessed to have such supportive friends and family. If at some point I lose hope they all boost me and motivate me to work harder.
---
Also Read:
---
Digital Guruji :  What next? What are your future goals? 
Himanshu Kumar Singh : My next plan is to increase my company and set its name as higher as possible.
Digital Guruji :  What is the part of your life experience you would alter if you had the chance to? 
Himanshu Kumar Singh : I personally believe that everything happens for good reasons in our life so I don't want to alter it.
Digital Guruji :  If you had the chance to start your career over again, what would you do differently? 
Himanshu Kumar Singh : If I have been given a chance to restart my career then I will first understand the trends and requirements in the market and then I will serve according to it. So that it will easily grab the market.
Digital Guruji :  Tell us how a day in your life looks like? Your schedule for a day right from the time you get up till you hit the bed at night.
Himanshu Kumar Singh : My daily life is very simple its starts right from 06:00 a.m. I got up to do some exercise after that I took bath and do some worship. Then I had my breakfast and at around 09:00 a.m. I start my work. Then in the afternoon, I have my lunch with my family I spent time with them, and synonymously I do my work. Usually, my works end at around 01:00 a.m. 
Digital Guruji :  Tell us about your learning in this entrepreneurship journey.
Himanshu Kumar Singh : The one thing I have learned is that in this field no one is your own. So stop trusting people blindly and never ever shares your business tips with them. If you have some ideas keep them with you and once you implement them it eventually everyone will come to know about them.
Digital Guruji :  What advice would you like to give our young readers?
Himanshu Kumar Singh : I would only like to say one line that never stops learning and dreaming if you learn you achieve experience and if dream you work hard.
Digital Guruji :  Any more Interesting Story Do You Want to Share with Us. 
Himanshu Kumar Singh : So the most interesting story or the fact I would like to share with you all because it contains better truth of life. During my starting days, people used to think he is just wasting his time doing nothing but today when I have done a little in my life those people are now coming and praise me and asking me to do some help. So never stop doing your work if you are passionate then you yourself gonna design your ways to success.
Here Ends the Exclusive Interview with the Founder of Kalikahost, Himanshu Kumar Singh.